AlphaTheta Corporation has today announced the release of the new XDJ-RX3 from its Pioneer DJ brand. This 2-channel performance all-in-one DJ system boasts all the flexibility and practicality of its predecessor and packs in a host of new features that come straight from the club-standard CDJ-3000 multi player and DJM-900NXS2 mixer, plus a brand-new 10.1-inch touch screen.
If you need an easily portable setup you can take to perform on at parties and events, or even install in a bar or small venue, the XDJ-RX3 has all bases covered. It's even ideal if you simply want to practice at home and feel comfortable when you use a CDJ+DJM setup in the club. Just like before, you can choose whether you want to play rekordbox-analyzed tracks from USB drives, or connect a laptop to unlock rekordbox Performance mode. Support for Serato DJ Pro is also included – coming in early 2022.
The 10.1-inch touch screen on the XDJ-RX3 has a higher resolution and frame rate than the one on the previous model. It features a brand-new interface that makes it quicker and easier to browse your music and control effects, and the browse section comes from the CDJ-3000 for intuitive navigation through playlists. With the new Playlist Bank feature, you can rapidly access your 4 favorite playlists at a single touch, while Touch Preview gives you the option to listen to any part of a track without even loading it to the deck. You can switch between viewing the pad status or Beat FX and the X-Pad with one tap on the screen, and with support for the 3Band Waveform feature – also from the CDJ-3000 – you can see the volume levels of different frequency ranges in rekordbox-analyzed tracks to give you a clear visual representation of how they sound.
It's easy to keep tabs on what's loaded to the decks of the XDJ-RX3 thanks to Color On Jog Display, which shows important track information or artwork on the LCD screen in the center of each jog wheel. You can customize the "weight" of the jogs too, by tweaking the Feeling Adjust dial for each one.
Want to make every mix sound unique? Get creative with all 14 Beat FX and 6 Sound Color FX from the DJM-900NXS2 and explore fresh ways to dynamically manipulate your music with the Performance Pads and the newly added Release FX on the XDJ-RX3.
With a new audio design which eliminates unwanted external noise, the XDJ-RX3 has been finely tuned to produce clear, natural sound that your audience can comfortably listen to for a long time.
You'll notice that the layout design is inherited from club-standard Pioneer DJ equipment too, with traits such as the illumination around the play / cue buttons and the Color On Jog Display standing out in particular.
To use the XDJ-RX3 with rekordbox Performance mode, you'll need to update to the latest version of the software, rekordbox for Mac/Windows (ver. 6.6.0), which will be released on November 16, 2021.
From early 2022, you'll be able to use the unit with Serato DJ Pro by updatding to the latest version of the software.
10.1-inch touch screen with new interface: Instinctively browse playlists, mix tracks, and apply effects
The 10.1-inch touch screen is the largest ever on a Pioneer DJ all-in-one system and noticeably bigger than the 7-inch one on the XDJ-RX2. It features a higher resolution 1280:800 (WXGA) and increased frame rate compared to the previous model so you'll see everything clearly, including the smoother waveform. Plus, a fresh GUI design and a host of new features mean you'll enjoy easier navigation for quick browsing and accurate mixing. The number of tracks displayed in the browse section has increased from 8 to 12, which means less scrolling as you search for the next song to play, and you can touch any of the stack of icons on the left side of the screen to instantly display the relevant information for each track – making it quicker and easier to browse by category.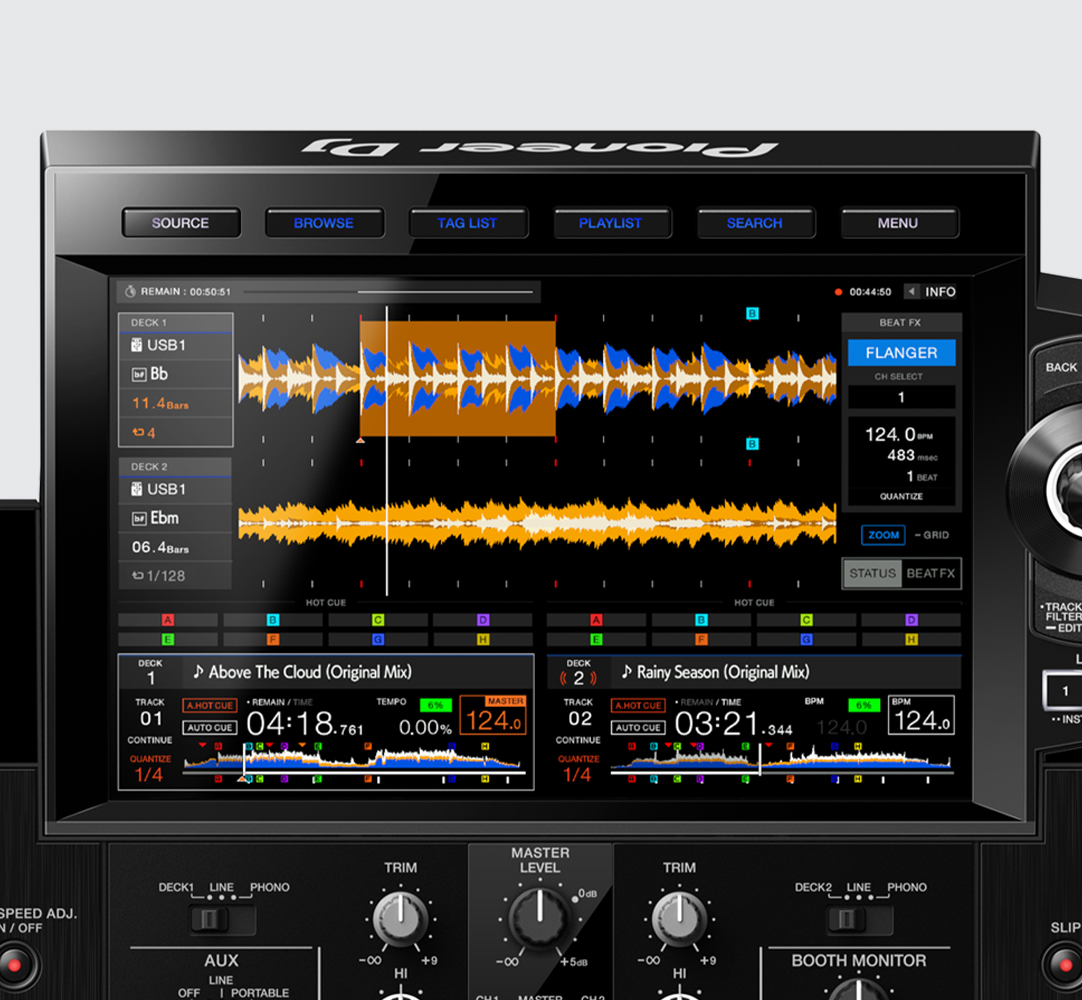 Rapid browsing
Choose up to 4 playlists and add them to the new Playlist Bank. You'll then be able to access them all rapidly, giving you the option to quickly select tracks from different genres etc.
Listen to any part of a track you want to preview by simply touching its waveform in the relevant place in the browse section, just as you would on the CDJ-3000. There's no need to load the track to the deck.
Accurate mixing
If you choose to view the phrase data analyzed by rekordbox, you'll see how each track is structured, with sections such as the intro, chorus, and bridge indicated on the overall waveform. This handy feature gives you a visual representation of how the music will progress.
Understand how a track sounds without even listening to it. 3Band Waveform is a popular feature from the CDJ-3000 which uses different colors to indicate the volume of the high, mid, and low frequency bands in files analyzed by rekordbox, so you can see the composition of the music just by looking at the waveform. 3Band Waveform comes in addition to the previous RGB and Blue options.
Advanced performance
Keep an eye on the mode that the Performance Pads are set to, so you'll know exactly what to expect when you hit one thanks to the new pad status display.
Register your 4 favorite effects to the new Beat FX Bank so you can turn them on with a single touch at any time. For the first time ever in an all-in-one DJ system, the X-Pad is integrated into the touch screen, giving you a simple way to apply complex-sounding effects just by swiping your finger from side to side.
Helpful features
Set a timer to count down to a specific point in your set: for example, midnight on New Year's Eve, the moment a vocalist is due to join your performance, or the time when you need to hand over to another DJ. The new Countdown Timer feature will always be there as a reminder that the crucial moment is approaching.
Play a track or playlist on repeat to keep the music going when you need to leave the DJ booth. This new feature is helpful in situations such as sound checks, saving you from constantly going back to the booth to hit play.
Color On Jog Display: Get a visual grasp of track information
The LCD screen in the center of each jog wheel indicates playhead position, and the responsiveness of the wheel rotation has been significantly improved compared to the XDJ-RX2. Artwork can also be displayed for a quick visual reminder of which track is loaded on the deck. And you can make the "weight" of each jog wheel feel just the way you like with the Feeling Adjust control.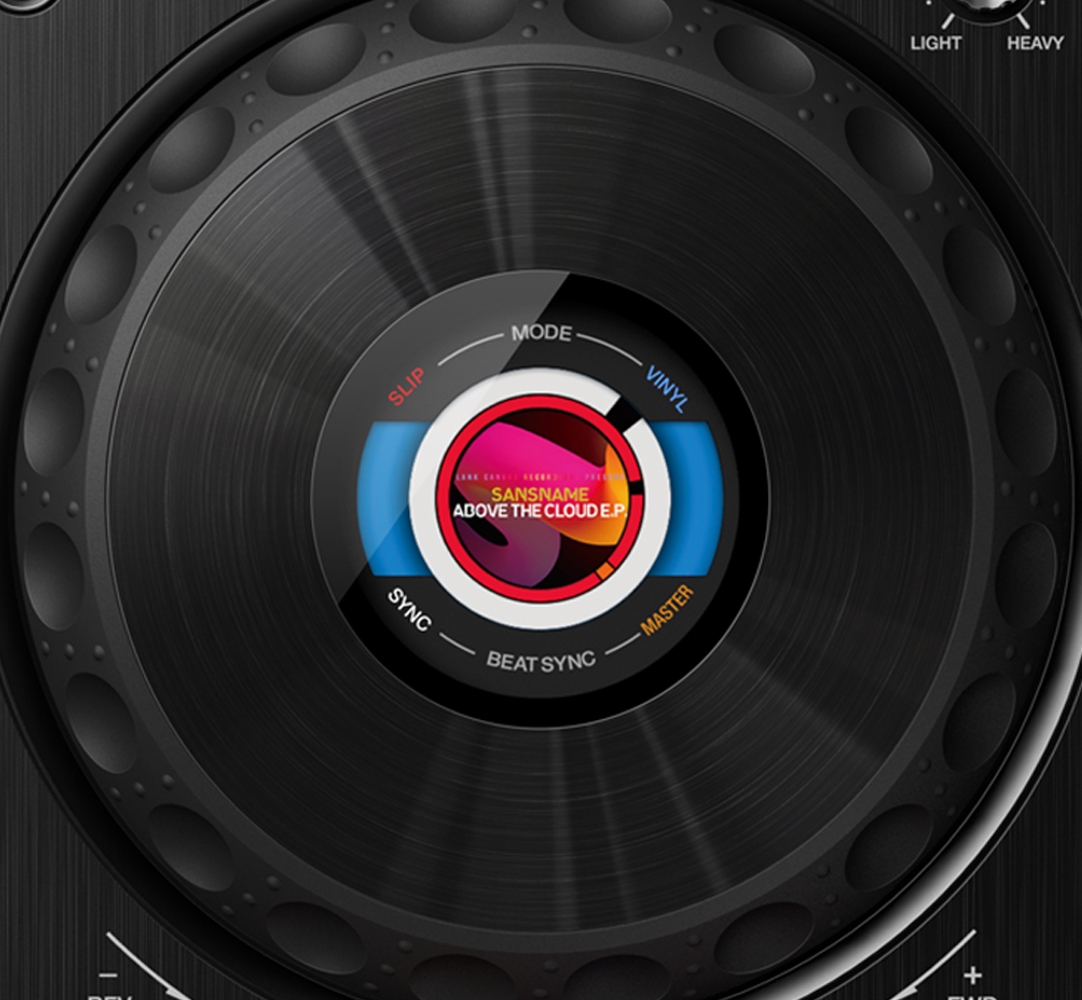 More Beat FX and Sound Color FX: Add texture and build drama in your mixes
The XDJ-RX3 includes all the effects from its predecessor, plus an extra 6 Beat FX and 2 additional Sound Color FX. So, you can play with the full range of effects from the DJM-900NXS2: 14 Beat FX including Ping Pong, Filter, Phaser, Slip Roll, Vinyl Brake, and Helix, and 6 Sound Color FX including Space and Crush.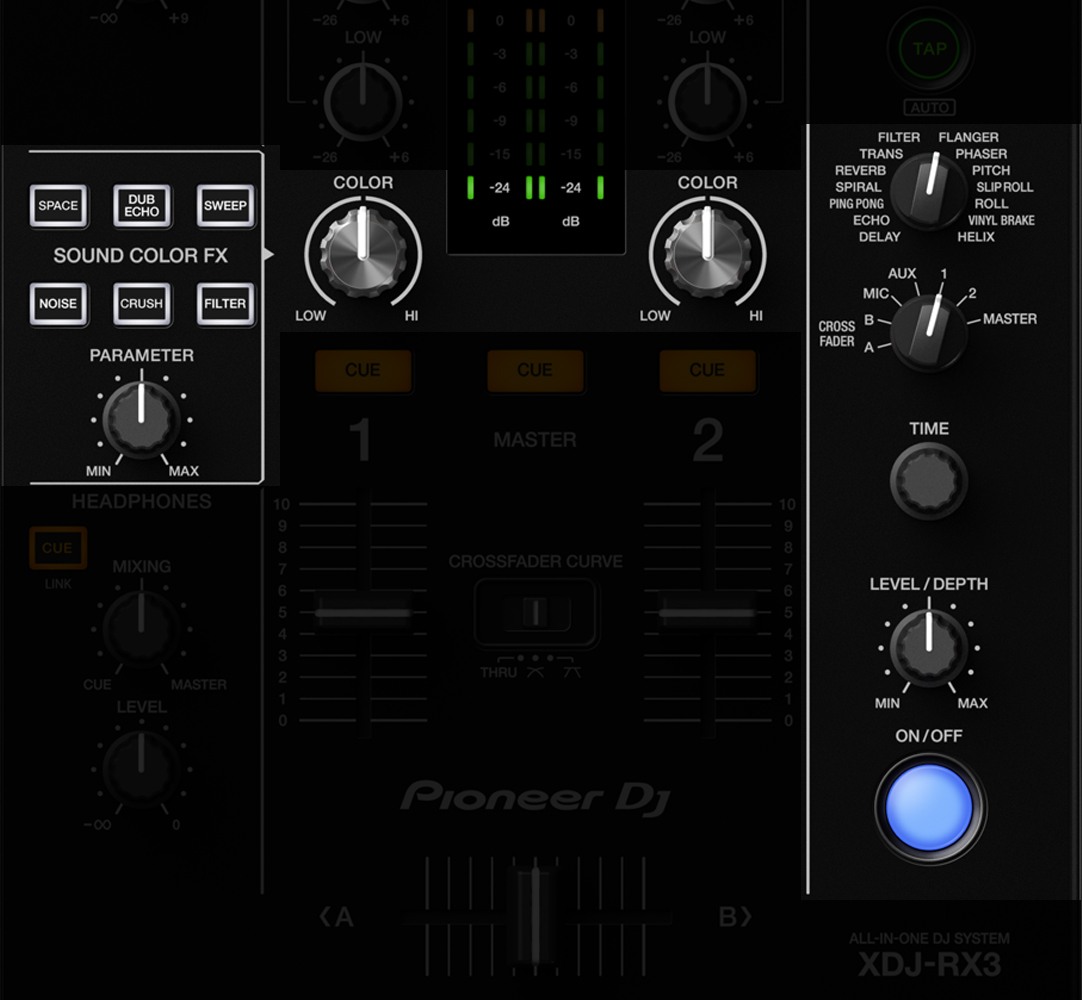 Release FX: Inject new energy into your performance
By hitting the Performance Pads, you can instantly change the energy of your performance, whether you want to add drama to a section of a track or create an exciting moment before transitioning to another song on the other deck. For example, you might use Echo Out or Spin Out to dynamically mix into your next track. Choose from 8 effect types: Vinyl Brake (Short / Long), Backspin (Short / Long), Echo Out, Build Up, Mute, and Ducking.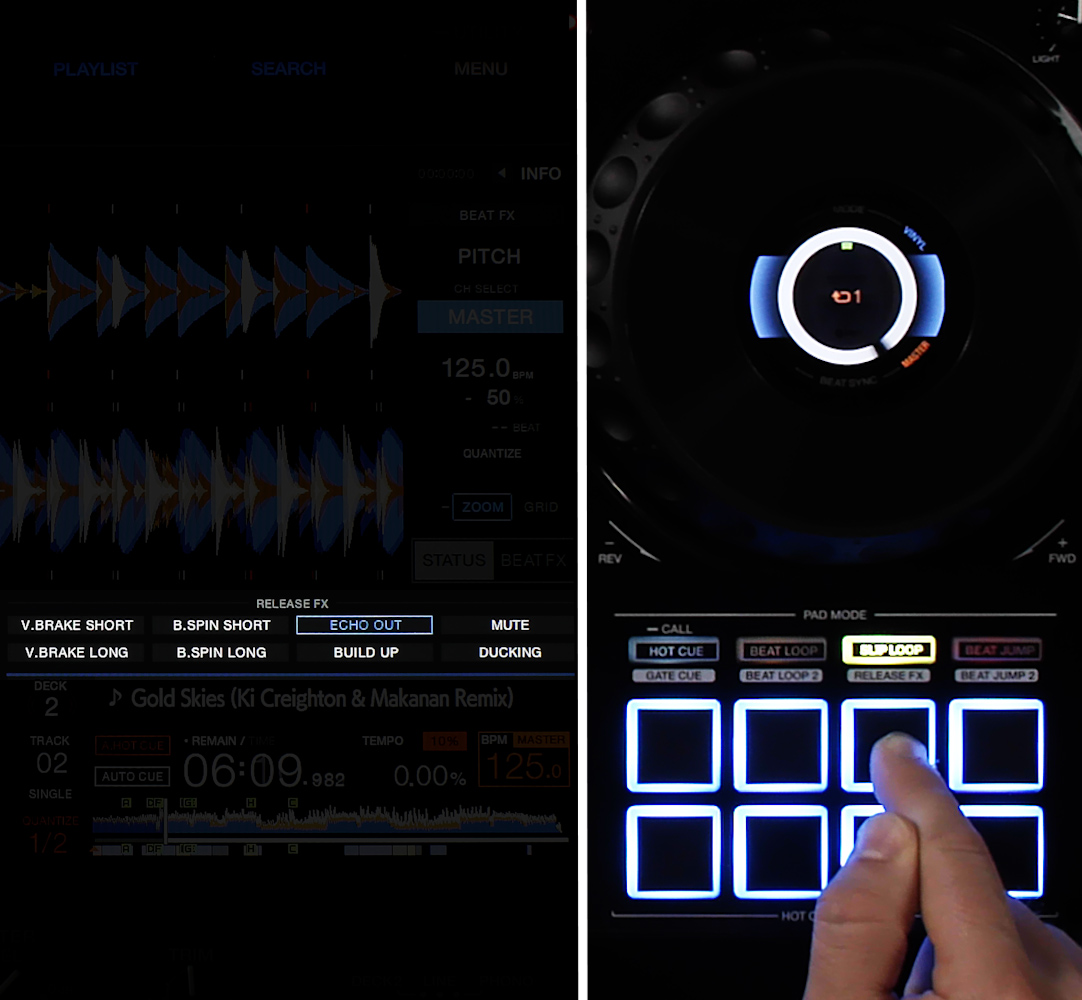 Compatible with rekordbox and Serato DJ Pro: Plug and play
The XDJ-RX3 can play rekordbox-analyzed music from USB storage devices via Export mode, or you can connect your laptop to use Link Export or Performance mode via USB-HID control. Because the XDJ-RX3 is a Hardware Unlock device, you can use Performance mode for free – there's no need for a paid subscription plan – so you can play all the tracks in your rekordbox library and enjoy free use of all the features in the Core plan when your laptop is connected. Free plug-and-play compatibility for Serato DJ Pro is included too (coming in early 2022).
Natural audio: Hear the true sound of your mixes
Because the decks and mixer are integrated into one unit, there's no risk of audio cables causing a loss in sound quality. The new audio design of the circuit board also eliminates unwanted noise, and detailed tuning has been carried out to create punchy low-end and expressive mid-high frequencies. This means the unit delivers sound that's faithful to the original source so your audience will experience the music as it was intended to be heard.
Refined design: Add a pro look to your setup
With contrasting surface finishes on different sections of the unit – and a layout design inherited from club-standard gear that includes illumination around the play / cue buttons and Color On Jog Display – the XDJ-RX3 has a look that echoes a professional setup.
XDJ-RX3 specifications
Software
rekordbox
Serato DJ Pro
Frequency Response
20 Hz – 20 kHz
S/N Ratio
110 dB (USB)
Total Harmonic Distortion
0.003 % (USB-MASTER1)
Inputs
LINE x 2 (RCA)
PHONO x 2 (RCA)
MIC x 2 (XLR & 1/4" TRS jack)
AUX x 2 (RCA x 1, 3.5-mm stereo mini jack x 1)
Outputs
MASTER x 2 (XLR x 1, RCA x 1)
BOOTH x 1 (1/4" TRS jack)
PHONES x 2 (1/4" stereo jack x 1, 3.5-mm stereo mini jack x 1)
USB
USB Type-A x 2
USB Type-B x 1
Power Supply
AC 110 V – 240 V, 50 Hz / 60 Hz
Power Consumption (standby)
54 W (0.3 W)
Maximum Dimensions (W x D x H)
728.1 x 469.5 x 118.4 mm / 28.7" x 18.5" x 4.7"
Weight
9.3 kg / 20.5 lbs.
Accessories
Power cable
USB cable
Quick Start Guide
Software license notice
Precautions for Use
Warranty (for some regions)
Visit the official rekordbox website for the software's specifications: rekordbox.com/
Visit the official Serato DJ Pro website for the software's specifications: serato.com/