Do you love music? Are you constantly discovering new genres and artists, and turning your finds into great playlists? If the answer is yes, you'd probably make a great DJ. And, if you're interested in learning how to mix, there are so many good reasons to start; from the buzz of getting your friends on the dancefloor at the next big house party (once it's safe to do so) to finding a new creative outlet for self-expression, to even making a full-time career out of music.
Getting started and knowing what gear to buy can be daunting when you're totally new to the world of DJing. But it's not as complicated as it first appears. Read on for a breakdown of what you need for your first DJ setup; from decks to headphones, to monitor speakers. You'll be ready to rock the crowd in no time.
What equipment do you need as a beginner DJ?
Before we go further, here's a basic overview of the main pieces of equipment in a DJ setup, whether it's in the home or a nightclub:
Decks: The things you play music on. Two or more are connected to a mixer.
Mixer: The unit that enables you to play music from two or more decks so your audience can hear it all at the same time.
Monitor speakers: It's important to have these so you can hear what your audience is hearing.
DJ headphones: You'll need these to listen to the next track you want to cue up without playing it through the speakers.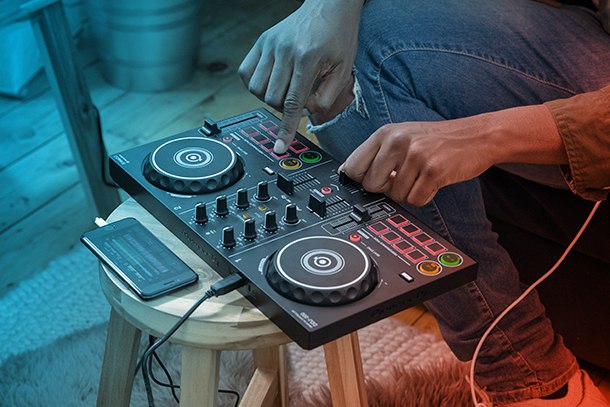 DJ decks: finding what's right for you
The first thing you'll need is DJ decks. There are a few options to consider.
DJ controllers: DJ controllers are in many ways perfect for those who are just starting out, as entry-level models offer fantastic value for money. With two deck sections and a mixer built into a single unit, a DJ controller looks a lot like a professional CDJ setup you'd see in a nightclub. And, depending on the model you choose, it could have many of the same features. The major difference is that controllers don't play music from USB drives, CDs, or SD cards. Instead, they control DJ software running on a laptop or mobile device where the music is stored. Some controllers such as the DDJ-200 – which is designed for beginners – can even connect to smartphones and, depending on the DJ app or software you use, you can mix with music from streaming services such as Beatport and SoundCloud Go+.
All-in-one DJ systems: Just like DJ controllers, all-in-one DJ systems are single units containing a mixer and two deck sections. However, while you can also use them to control DJ software on your computer or mobile device, all-in-one DJ systems can work on their own. So, you can plug in a USB drive loaded with all your music and leave your laptop at home. These are powerful pieces of gear that inherit many of the advanced features you'll find on a pro CDJ setup.
CDJs & mixer: CDJ multi players are popular among the pros as they're highly versatile and reliable, and they can play music without a laptop. CDJ setups – with at least two players and a mixer – are the club standard and what you'll see in the DJ booth in most venues. If your heart is set on eventually playing at your favorite club, investing in CDJs might be the right choice for you. XDJs also come as single units and are very similar to CDJs, but offer slightly different feature sets.
Turntables & mixer: Mixing with vinyl is how modern DJing started — DJs in 1970's New York first started manipulating records and seamlessly mixing them together at block parties in the Bronx. Many people prefer the hands-on feel and warm sound that vinyl offers. You'll need two turntables and a mixer and there's a steeper learning curve with analog mixing, but keep at it and you'll achieve a truly intuitive (not to mention respected) understanding of the artform.
If you decide to start with a DJ controller, there are some great entry-level options that offer fantastic value. The DDJ-200 and DDJ-400 are designed specifically for beginners, and both are among a large range of Hardware Unlock devices that give you free use of Performance mode in rekordbox, our professional DJ software. Just plug your controller into your laptop or compatible device and start DJing.
What makes DJ headphones different?
Often when people get into DJing, they'll use any pair of headphones they happen to own already. But if possible, it's well worth buying a good pair designed specifically for mixing – even for your first setup. DJ headphones have a number of characteristics that make them more comfortable and can even help you improve your performances.
Durability: DJ headphones are built to withstand the heavy wear and tear that comes from constant travel and performing long sets in dark, chaotic clubs. A good pair will last for years if you look after them.
Sound insulation: Effective sound insulation blocks out the ambient noise around you so you can focus on the details of your mix.
Functionality: Most DJ headphones include a number of features that enable you to transport them easily and wear them comfortably for long periods. With a flexible headband and earcups that swivel, you can wear your headphones in various ways. For example, you might keep them on your head or drape them around your neck, sometimes with one earcup on the ear and the other one off, so you can hear the next track as you mix it in via your headphones while also listening to the track the audience can hear through the speakers.
Sound quality: DJ headphones offer rich sound so you can pick out all the details in your music and know exactly what the audience will hear when you play your next track. Being able to clearly hear the bass and kick drum, or monitor the frequencies that you've isolated from the rest of the track via the mixer, will help you to mix with precision.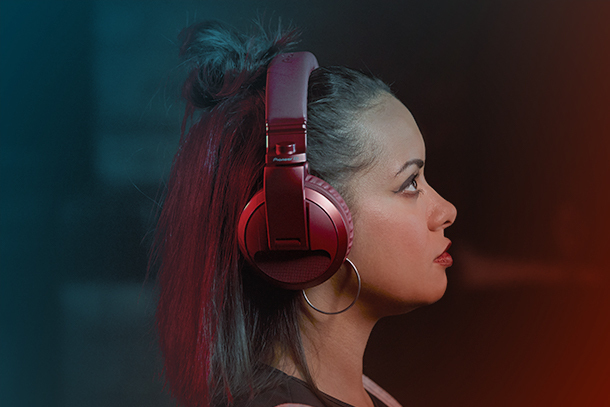 Monitor speakers let you really hear your mixing
If you're looking to take your home setup to the next level, consider getting some monitor speakers. These will give you a more accurate sense of what your mixing sounds like, which will then help you to develop your skills and prepare for performing in front of an audience.
A pair of the Bluetooth-enabled DM-40BT is a great choice to start with; offering clear sound, portability, and wireless flexibility. And if you position your gear right, you can use these speakers to monitor your mix and provide the music for a party at home when you're ready to play a set for your friends.
Next steps: develop your skills and grow your music collection
Once you have your first setup, it's time to hone your DJ skills and build up your music collection. Expanding your musical horizons and finding new genres and tracks to mix and experiment with is all part of the learning process.
Don't forget, you can mix music from streaming services such as Beatport, Beatsource, TIDAL, and SoundCloud GO+ (each requires a subscription) when you use Performance mode in rekordbox, which is free to use with various setups including many of our DJ controllers and all-in-one DJ systems. This offers an easy way to grow your music collection and find your sound when you're starting out.
If you want to learn more about the art of DJing, there are plenty of great online resources. Check out our learning to DJ online guide to find out about a range of accessible options. And for an in-depth look at some of the world's best DJs performing behind the decks, check out the DJsounds show.