AlphaTheta Corporation has today announced the release of the DDJ-REV7 in a new series of DJ controllers from its Pioneer DJ brand. This 2-channel unit is built to help you get the most from the Serato DJ Pro performance software and boasts a brand-new design that includes large, motorized jog wheels with On Jog Display to create a tactile connection between you and your music.
The DDJ-REV series is a fresh range of DJ controllers with layouts that emulate a professional DJM-S mixer + PLX turntable setup, including specialized features for open-format and scratch DJs. For the first time ever on a Pioneer DJ controller, the tempo sliders have been moved to the top of the deck sections and turned horizontally to emulate PLX turntables arranged in a battle configuration. The Performance Pads have been placed in the mixer section along with Lever FX paddles, exactly where they're found on DJM-S series mixers, enabling you to energetically change the sound during performances.
If you're looking for a portable setup that faithfully emulates analog turntables and a mixer, the DDJ-REV7 is perfect for performing at parties and venues. Its 7-inch VINYLIZED JOG wheels are motorized and feel great when you're scratching, and you can experiment to find your perfect level of torque and friction with customizable settings and two slip sheets included inside each deck that fit inside. The acrylic top plate is specially finished to feel just like a real analog record, with a spin treatment that easily catches on your fingertips when you touch it. What's more, you can keep an eye on essential information such as waveforms, Hot Cues, and playback positions thanks to the 3.5-inch On Jog Displays. You can easily switch modes to customize what they show and, because the displays have omnidirectional viewing angles, you'll see everything clearly – whatever the angle of your gaze. Plus, with the robust MAGVEL FADER PRO, you can enjoy a slick, accurate response while scratching.
When you're in the middle of a complicated scratch routine and you want to fire off a sample, you can easily hit one of the Instant Scratch buttons on the DDJ-REV7 to trigger your choice of 4 original sounds. They're all built into the controller, which means they're always available at the touch of a button and you don't even need to connect your laptop to use them. If you're keen to drop your own samples in your sets, load them into Scratch Bank in Serato DJ Pro and you can play them whenever you want – even if they're full tracks – by tapping the Performance Pads. Want to spice up your tracks with effects? The DDJ-REV7 includes 22 Beat FX including 3 brand-new ones so you can get creative, build the drama, and add texture to your performances. There are 5 popular Sound Color FX to play with too. And, with advanced audio components, the unit produces the highest level of sound quality in the entire Pioneer DJ controller range.
To use the DDJ-REV7 with Serato DJ Pro, update to the latest version of the software and use the bundled voucher for the Pitch 'n Time DJ Expansion Pack to unlock that function.
Exclusive launch offer: Enjoy 3 months of TIDAL HiFi for free
Streaming with TIDAL in Serato DJ Pro gives you access to an endless music library at the highest level of audio quality available. With this limited-time launch offer, DJs will receive a unique code valid for 3 free months of TIDAL HiFi when connecting their DDJ-REV7 to Serato DJ Pro for the first time.
Brand-new motorized, VINYLIZED JOG: Feel like you're playing with records
At the heart of each deck on the DDJ-REV7 is the new 7-inch motorized jog wheel, which features the same rotational stability as a 12-inch turntable and is built to feel like you're playing with real records. The acrylic top plate is finished with a vinyl-like texture for effortless finger grip, and you can choose between low and high torque settings and use the two included slip sheets inside each deck – which fit neatly inside the jog wheel – to find your preferred amount of friction. Switch between a rotation speed of 33⅓ or 45rpm whenever you like and use the Stop Time setting to adjust how long it takes for the music to end when you press pause. You can make it halt immediately or slow down gradually, as if you've turned off the power on an analog deck.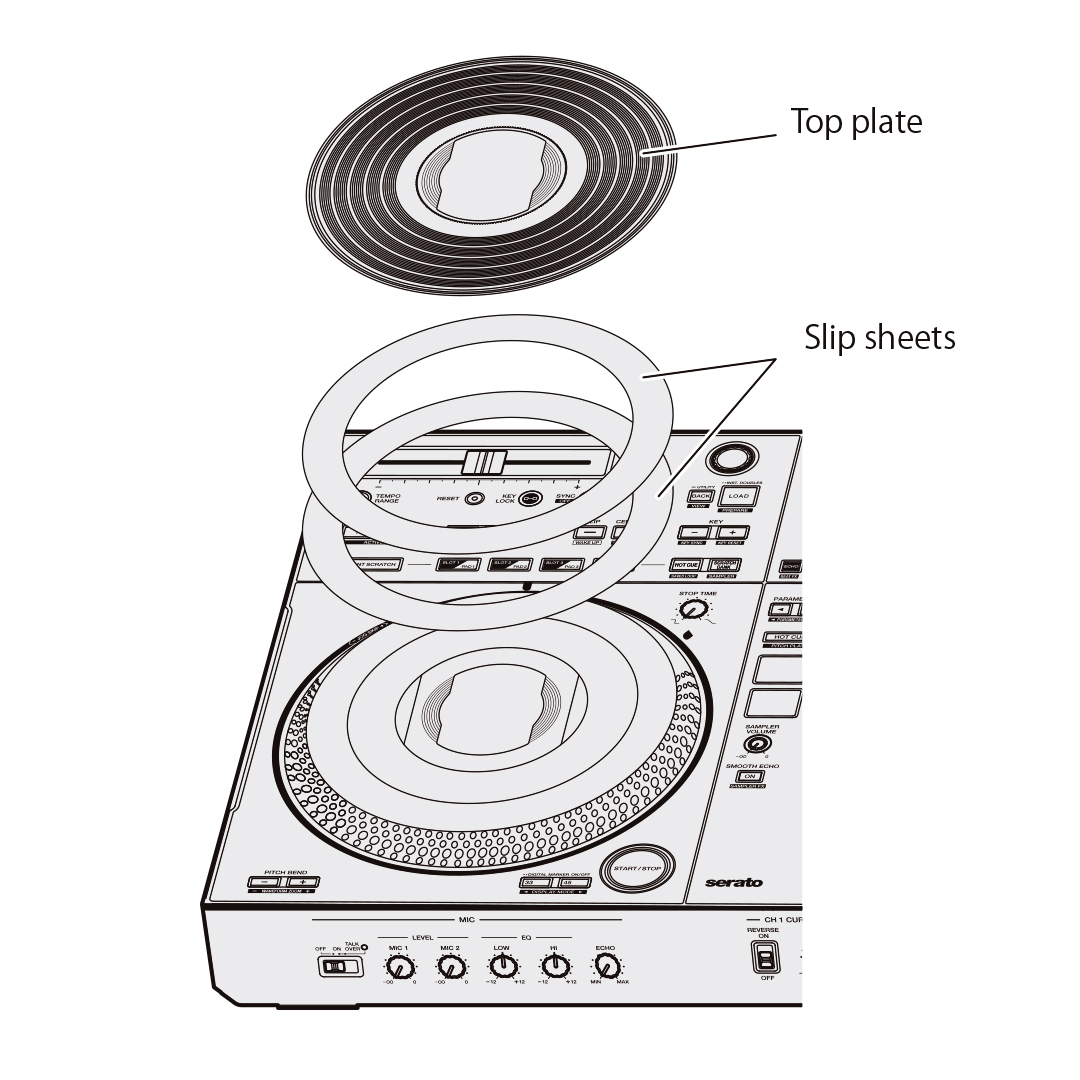 On Jog Display: Keep an eye on essential information
In the center of each jog wheel, a 3.5-inch LCD keeps important information at your fingertips so there's far less need to switch your gaze between the decks and your laptop. Thanks to an omnidirectional viewing angle, you can see what's being displayed from any angle, and you can turn off the digital marker that indicates the playback position whenever you want. You can also mark each jog wheel with the included stickers if you prefer this method to the digital marker.
Waveform mode
See the overall waveform of the track on that deck, plus the detailed waveforms of the tracks on both decks side-by-side to help you make quick, intuitive adjustments. You'll also have an eye on the BPM, playback speed (tempo), remaining or elapsed time, digital marker for the playback point (which you can turn off), and the number of beats in the loop when one is playing.
Virtual Deck mode
View the virtual deck of Serato DJ Pro and the number of beats to the next Hot Cue point.
Artwork display
Display the artwork for the track that's playing.
DJ Logo display
Display your own logo or favorite image on each deck after using the Image Transfer Tool for PC/Mac to load it onto the DDJ-REV7.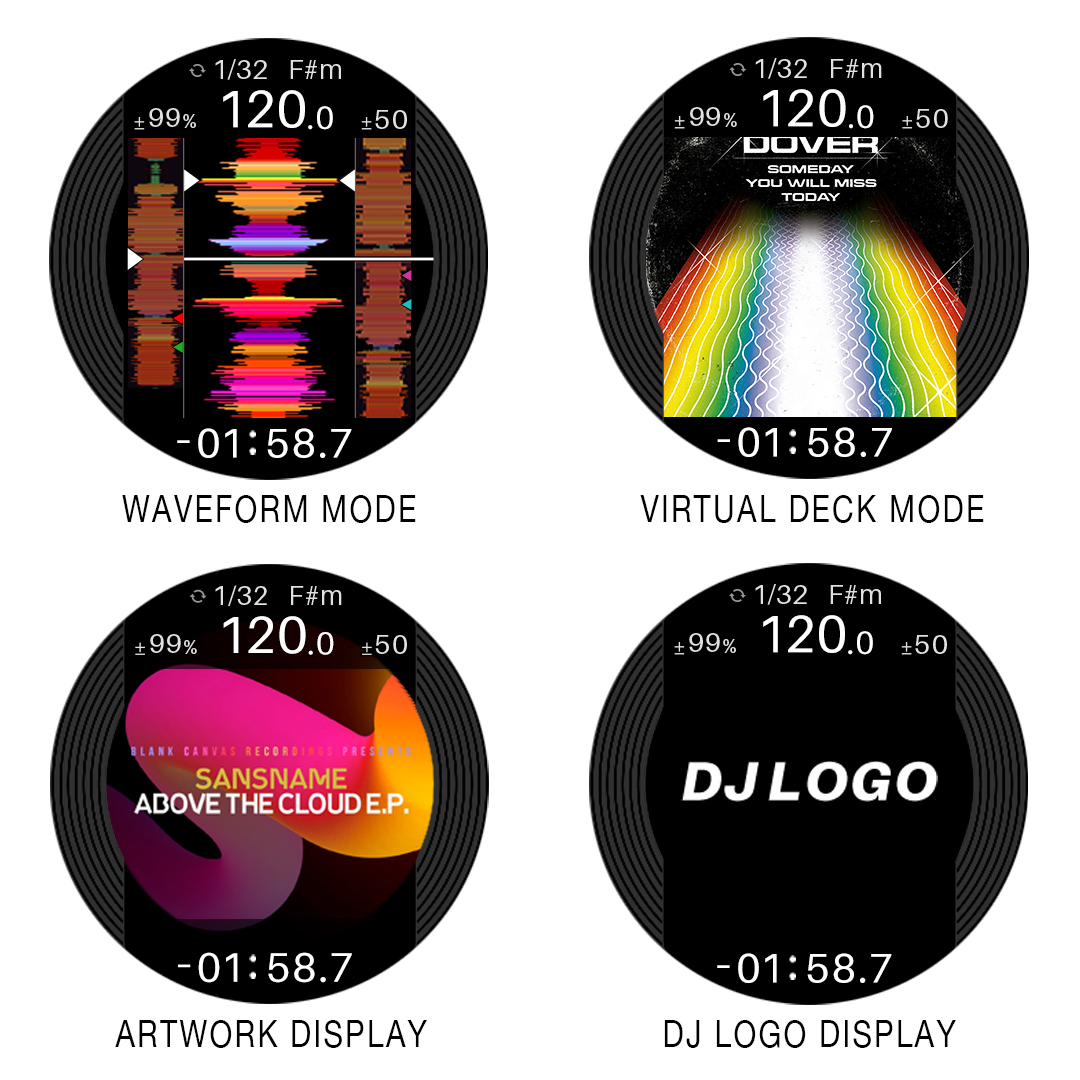 Instant Scratch: Rapidly fire samples with dedicated buttons
The DDJ-REV7 has 4 original scratch samples that you can trigger by pressing the corresponding hardware buttons. Because the sounds are built in, you can fire them at any time – even if the controller isn't connected to your laptop. If you want to use your own samples in your set, you can instantly load scratch samples from 4 banks that you've assigned in Serato DJ Pro with the Scratch Bank feature.
MAGVEL FADER PRO: Scratch freely
Scratch with style and confidence when you use the MAGVEL FADER PRO. As well as being highly robust, it's customizable with various settings to help you find the feel that's right for you.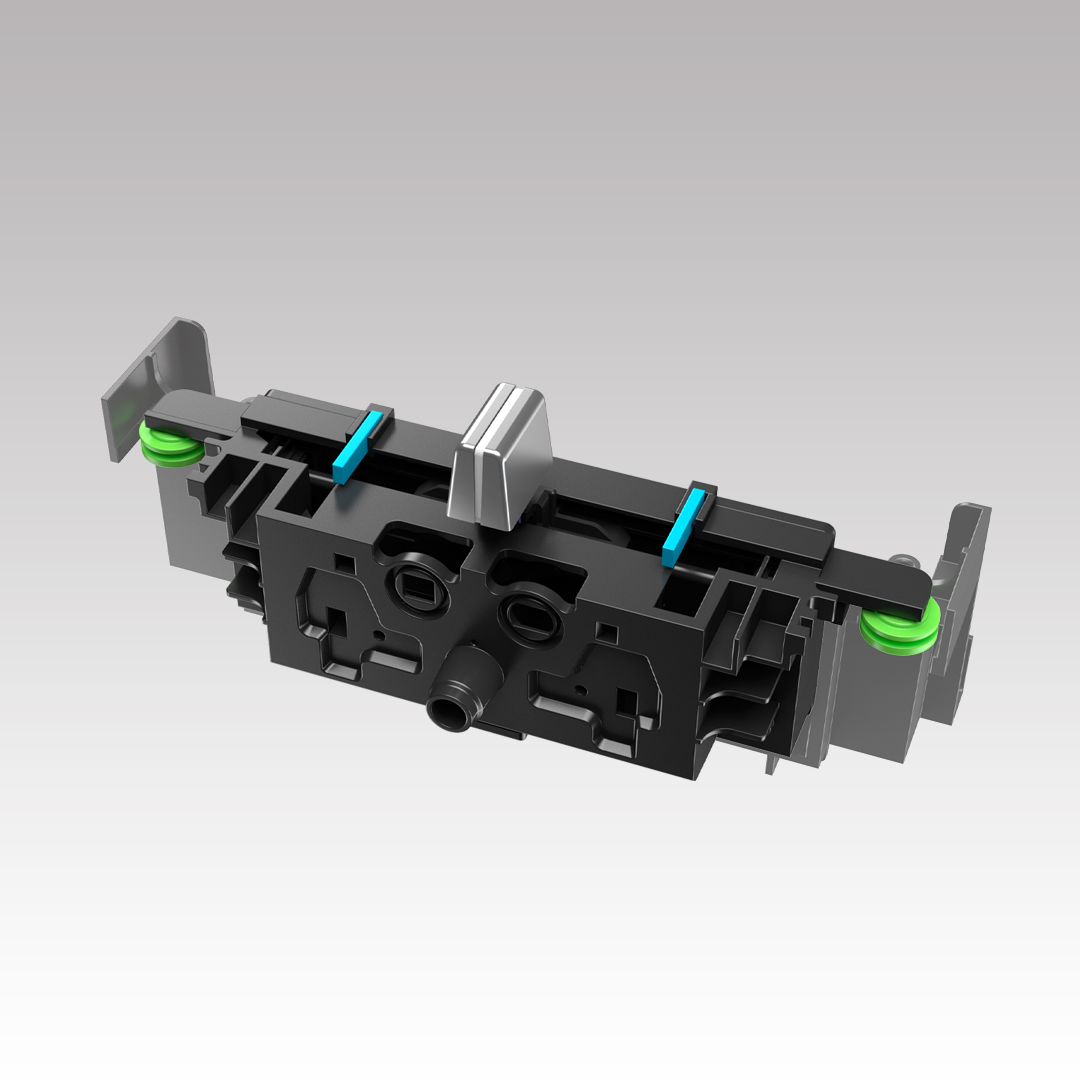 22 built-in Beat FX including 3 new additions: Dynamically change the sound of your tracks
Add drama to your track transitions with the 3 brand-new Beat FX. In total there are 22 Beat FX, which you can trigger with the dedicated controls.
Duck Down
A roll effect that fades out while lowering the pitch.
Fill Out
A roll effect that forms a roll with a changing rhythm pattern and fades out with echo.
Helix Out
An effect that samples the input sound and repeatedly fades it out like a reverb, while increasing the playback speed and pitch.
You can also pull the effects levers down and hold them to apply effects from Serato DJ Pro in short bursts, or push them up to lock effects on and free up your hands for scratching or track browsing. Instantly trigger the effects saved in 4 FX Banks and edit them via the Setting Utility on your PC/Mac. While you're using one of these effects, you can also trigger up to 6 more from Serato DJ Pro. The DDJ-REV7 also has 5 popular Sound Color FX to experiment with.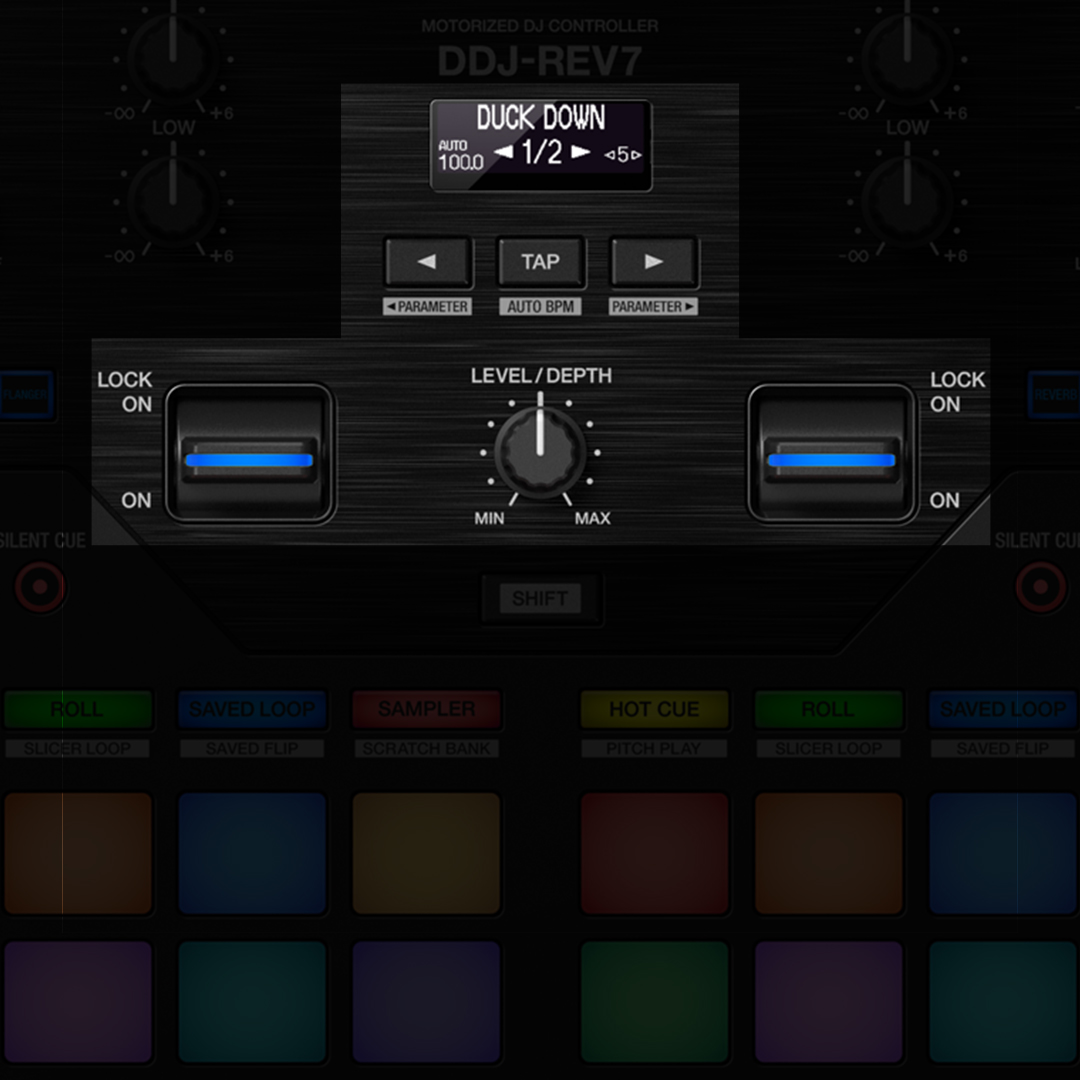 Advanced audio design: Enjoy high-quality audio
With a digital-to-analog converter from ESS Technologies and improvements to the audio design, the DDJ-REV7 achieves the highest sound quality of any Pioneer DJ controller. Even the unwanted noise that's commonly created by on-board power supplies has been reduced for a purer audio experience.
Plug and Play compatibility with Serato DJ Pro: Enjoy free use of the software
As soon as you've downloaded Serato DJ Pro to your PC/Mac, you can simply connect the DDJ-REV7 via the supplied USB cable and start DJing. Enjoy tactile control of various features and effects in the software by manipulating the buttons, knobs, faders, and jog wheels on the controller. A voucher for the Serato Pitch 'n Time DJ Expansion Pack is included, which enables key shifting and key syncing with perfect audio quality.
Portable, sophisticated design: Take your performances anywhere
The DDJ-REV7 is solid and robust, yet still lightweight enough to grab by the handles on the chassis and carry to your next gig. Contrasting matte and hairline finishing in different sections of the aluminum top plate create distinction between the deck and mixer sections, so the layout looks like a traditional 2 x turntable + mixer setup, while the On Jog Displays mimic the label in the center of a vinyl record.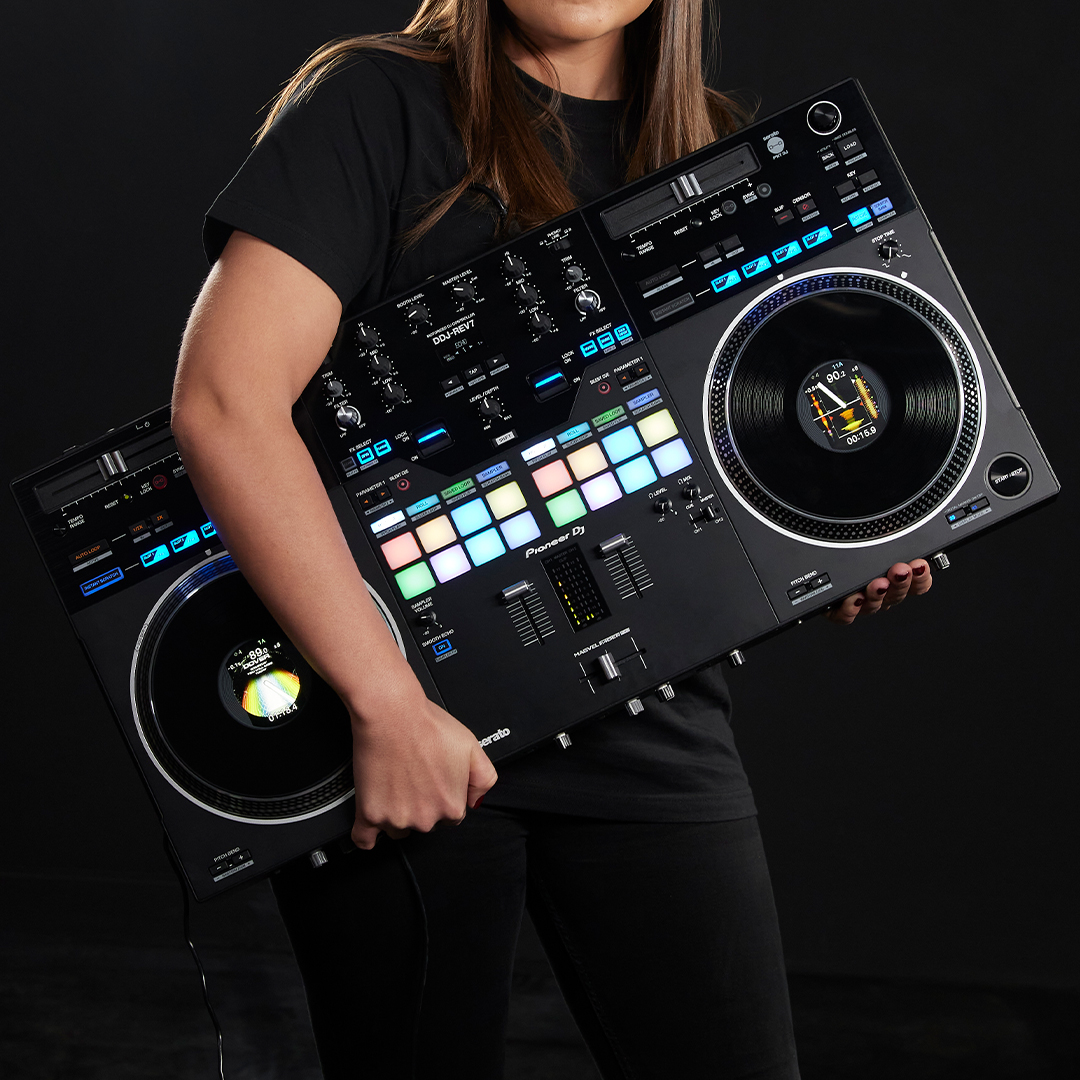 Other features
Silent Cue
Switch on Silent Cue and avoid the sound of the music speeding up as the platter starts to spin. Simply choose a Hot Cue, then hit play on the deck and it will sound the same as hitting a cue point on a DJ player.
Smooth Echo
Assign the Smooth Echo effect to your choice from a selection of controls, e.g., a fader or pad. Then, when you turn on Smooth Echo with its dedicated button, the echo will be triggered as soon as you move the relevant control.
DDJ-REV7 specifications
Software
Serato DJ Pro
Frequency Response
20 Hz - 20 kHz (USB, LINE, AUX [LINE / PORTABLE], MIC 1, MIC 2)
S/N Ratio
110 dB (USB)
95 dB (LINE)
84 dB (PHONO)
Total Harmonic Distortion
0.003% (USB)
0.005% (LINE)
0.017% (PHONO)
Inputs
LINE / PHONO x 2 (RCA)
MIC x 2 (XLR & 1/4" TRS jack x 1, 1/4" TRS jack x 1)
AUX x 1 (RCA)
Outputs
MASTER x 2 (XLR x 1, RCA x 1)
BOOTH x 1 (1/4" TRS jack x 1)
PHONES x 2 (1/4" stereo jack x 1, 3.5-mm stereo mini-jack x 1)
USB
USB Type-B x 2
Power Supply
AC 100 V – 240 V, 50 Hz / 60 Hz
Power Consumption
DC 24 V, 1000 mA
Maximum Dimensions
732 x 382.2 x 82.4 mm / 28.8" x 15.0" x 3.2" (Width x Depth x Height)
Weight
10.7 kg / 23.6 lbs.
Accessories

AC adapter
Power cord
USB cable
Warranty (for some regions)
Quick Start Guide
Precautions for use
Serato DJ Pro Expansion Pack Voucher (Serato Pitch 'n Time DJ)
Marking Sticker
Visit the official Serato DJ Pro website for the software's specifications.