Keep the crowd in the palm of your hand with the latest DJ controller from Pioneer DJ: the DDJ-FLX6. With a host of brand-new features, this 4-channel unit makes it easy to hype up the audience, mix songs from totally different genres, and spice up your sets with pro-sounding scratch effects. The controller is a Hardware Unlock device for rekordbox and it unlocks the DJ performance functions in Serato DJ Pro, so you can choose which software application you want to run for free on your laptop, then simply plug in and start DJing.
With more music available via streaming services than ever before, DJs are constantly discovering genres they haven't explored previously. But, while it's natural for a DJ to want to play the sounds they love during a set, switching between musical styles can be daunting. The DDJ-FLX6 gives DJs the creative freedom to play the tracks they want to in any order – without worrying about mixing different keys and BPM ranges.
Switching between different musical genres is a great way to keep your crowd on their feet. With the DDJ-FLX6, you can effortlessly change from hip-hop to house, from rock to EDM, or between any other styles you want to play. There are no limits thanks to the new Merge FX feature. With simple control of a single knob, you can create a dramatic build in the music and make it rise to a crescendo. Then, when you're ready, press the knob to trigger a killer drop with an optional punchy sample. You can do all of this at any point in a song – you don't need to know when the chorus or break is coming – then you can hit play on the other deck and drop your next track, which could be from a different genre with a totally different BPM that would normally be difficult to mix into your set.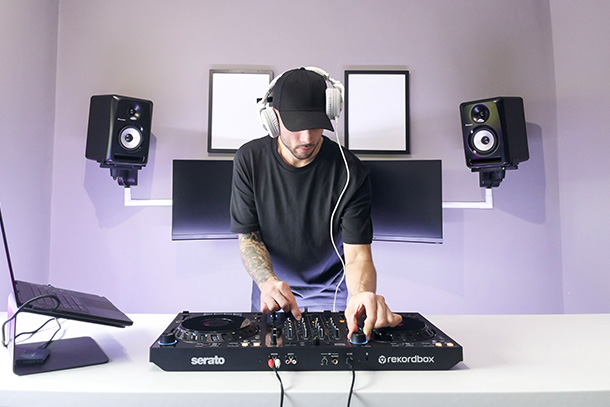 The DDJ-FLX6 is made to help you perform energetically and intuitively. The full-size jog wheels include a track position display so you can manipulate the music instinctively and, when you use them with some of the new features on the DDJ-FLX6, you can really spice things up. For example, you can sound like a pro battle DJ when you use the brand-new Jog Cutter feature to create a variety of slick scratch sounds by simply moving the jog wheel backward and forward. You don't need to know how to scratch and you don't even have to touch the crossfader. And with the Sample Scratch function, newly introduced to rekordbox, you can take sounds you've assigned to the sampler and load them onto the decks. This means you can scratch with your samples and even use them with Jog Cutter. And remember, you've got four channels to play with, so you can play tracks on decks 1 and 2, then start scratching samples on 3 and 4.
Noticed that the DDJ-FLX6 has a fresh look? It's the first Pioneer DJ unit released in a new dark gray matte finish, and its jog wheels have a unique design to complement the aesthetics. Watch the introduction video or find out more about the new DJ controller.
To use the DDJ-FLX6 with rekordbox, download the latest version of the software. To use the unit with Serato DJ Pro, download the latest version of the software and use the bundled vouchers for the FX Pack and Pitch 'n Time DJ Expansion Pack to unlock those functions.
All-new Merge FX: Dynamically switch from one track to the next with a single action
Add drama to your sets and easily mix different styles of music with this brand-new feature. No matter what the BPM or key of the next track is, you can create an exciting transition whenever you want. Simply press the knob to engage the effect, then turn it as fast or as slowly as you like to start building up the tension in the music. Depending on the effect pattern you've chosen, the pitch of the track might start to climb while a snare drum sample is triggered at shorter intervals until you're ready to drop your next song. When you press the knob again, the effect is released – and if you've chosen one in the settings, another sample fires off to end the track so you can simply hit play on the other deck to introduce the next song or genre of music.
There are eight Merge FX pattern presets to choose from (four if you use Serato DJ Pro) and you can use your own samples. If you're DJing with rekordbox, you'll find everything is customizable. Choose from 41 types of effects within the four categories that make up one Merge FX (Build FX, Build Sample, Release FX, and Drop Sample) and combine them to create more than 9,000 different patterns. You can save eight of your own patterns and use the FX Select button on the unit to call them up whenever you want to perform a unique mix.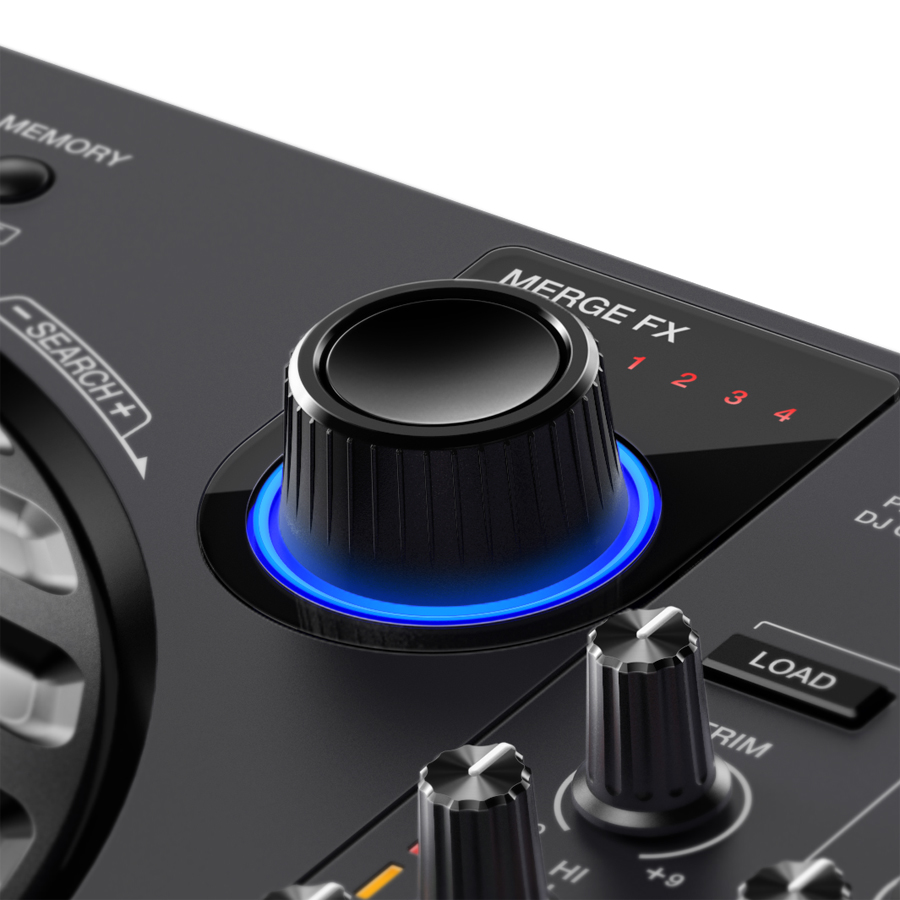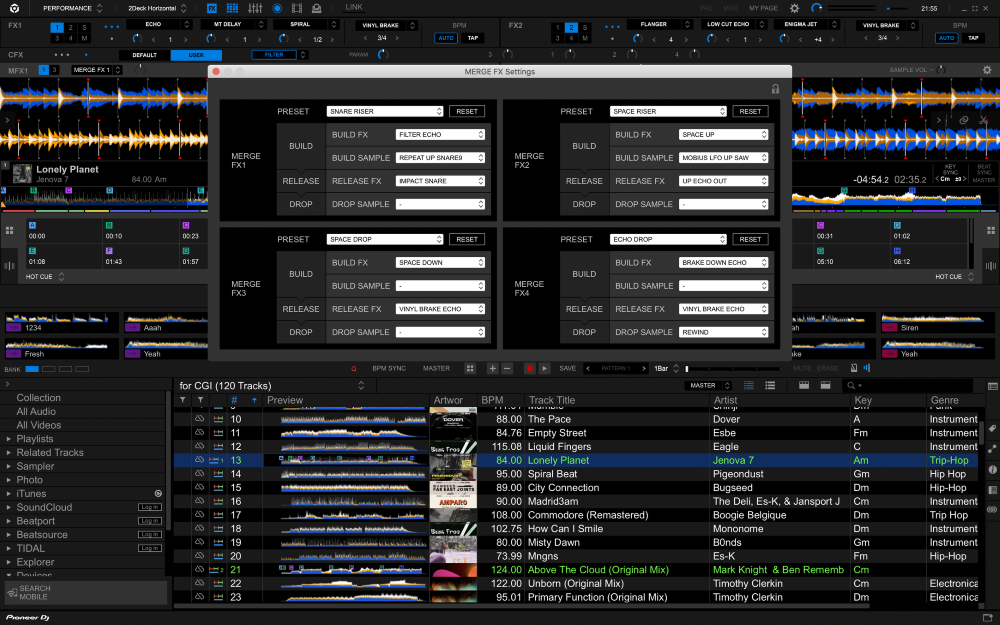 Jog Cutter: Make pro-sounding scratch effects, one-handed
Turn on Jog Cutter and, when you move the jog wheel, a professional scratch effect will be applied to the last Hot Cue or playback position you used on that deck. There are 10 different scratch patterns and you can switch from one to another by simply moving the playhead position, shown on the jog wheel's display, to point toward the angle for the scratch you want to use. When you lift your hand away, the track will continue to play as normal from the Hot Cue position.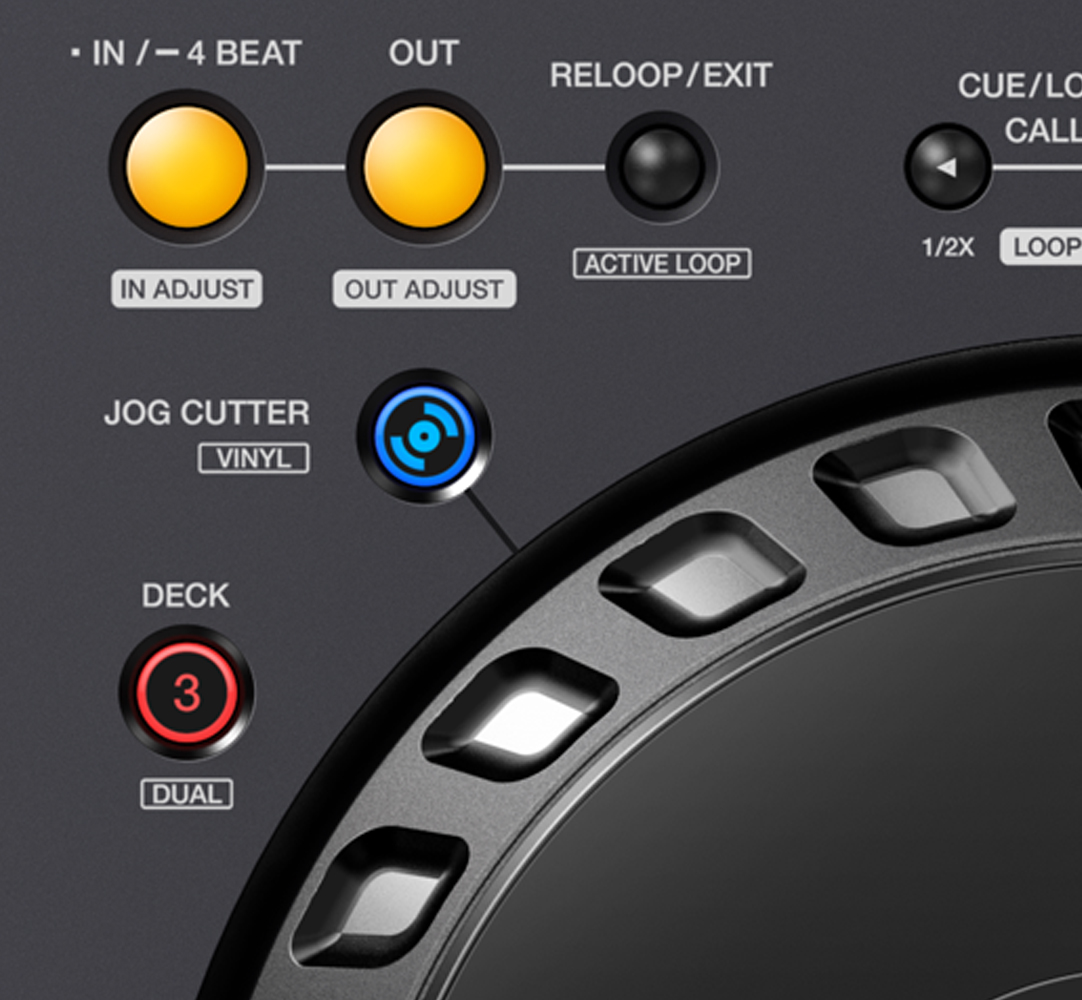 Full-size jog wheel with track position display: Perform intuitively
Pitch bending and scratching feel natural on the DDJ-FLX6 thanks to the large jog wheels, which are the same size as those on the flagship CDJ-3000 multi player. Each one features an On Jog Display too, so you can keep an eye on the playhead position.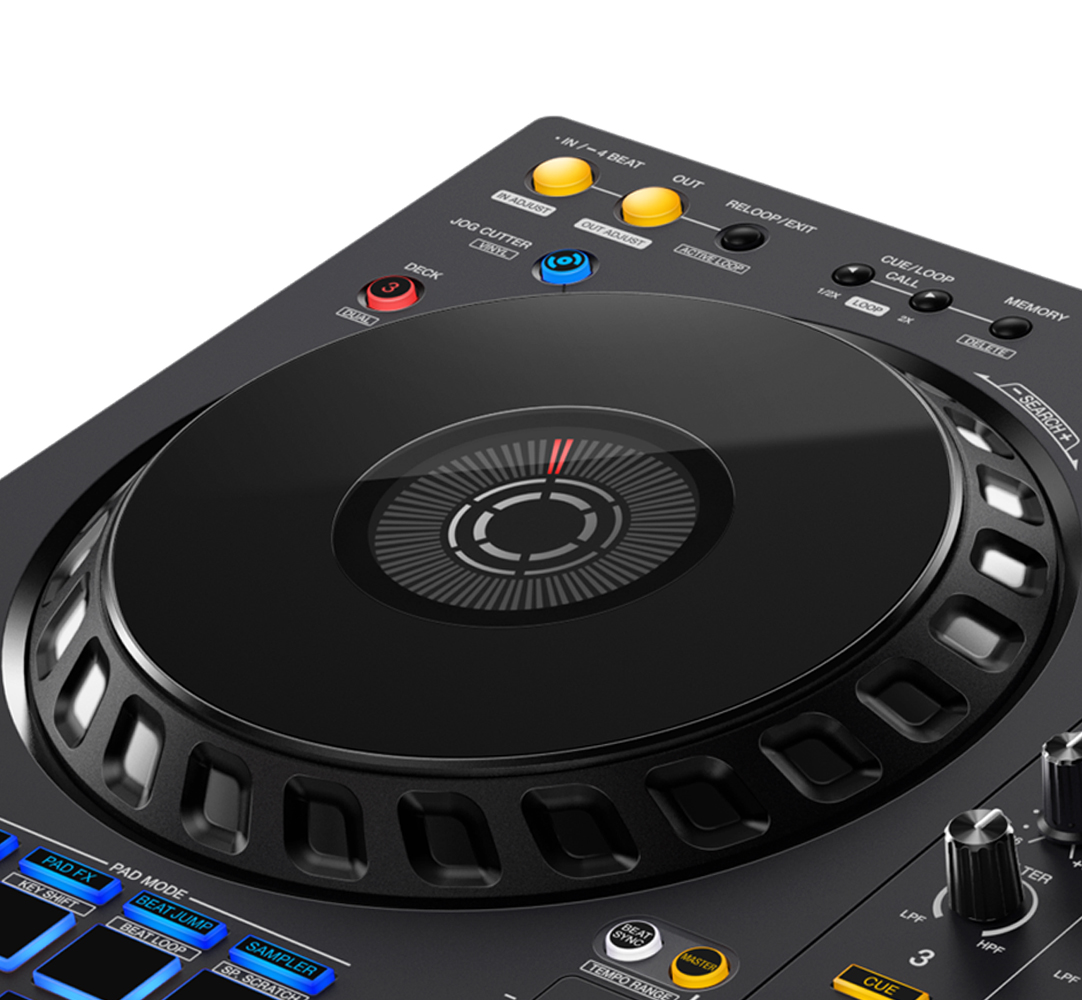 Sample Scratch: Get creative with your favorite sounds
Sample Scratch is a brand-new pad mode in rekordbox which enables you to choose sounds you've assigned to the sampler and load them onto the decks. So, when you want to create a live remix of a track or simply add some texture to the music, you can scratch with your favorite sounds. If you're using Serato DJ Pro, you can use Scratch Bank to trigger samples by hitting the Performance Pads.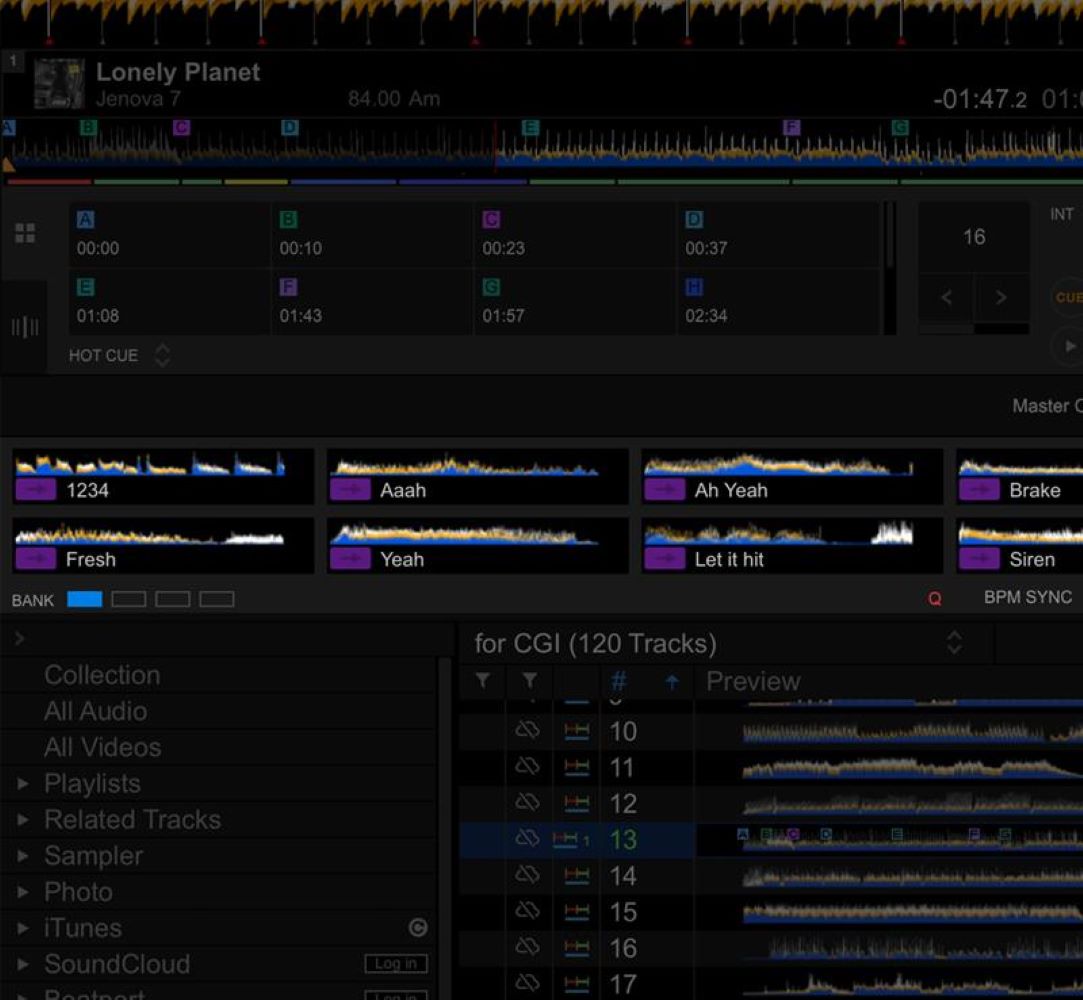 Plug and play compatibility with rekordbox and Serato DJ Pro: Play freely
With a built-in sound card and support for the DJ Performance functions in rekordbox and Serato DJ Pro, all you need to do is connect the DDJ-FLX6 via USB cable to a laptop that's running either software application and you can start DJing. You don't need a paid subscription plan for either. The DJ controller also comes with license keys for the FX Pack and Pitch 'n Time DJ Expansion Pack for Serato DJ Pro so you can get creative with advanced features, no matter which application you choose.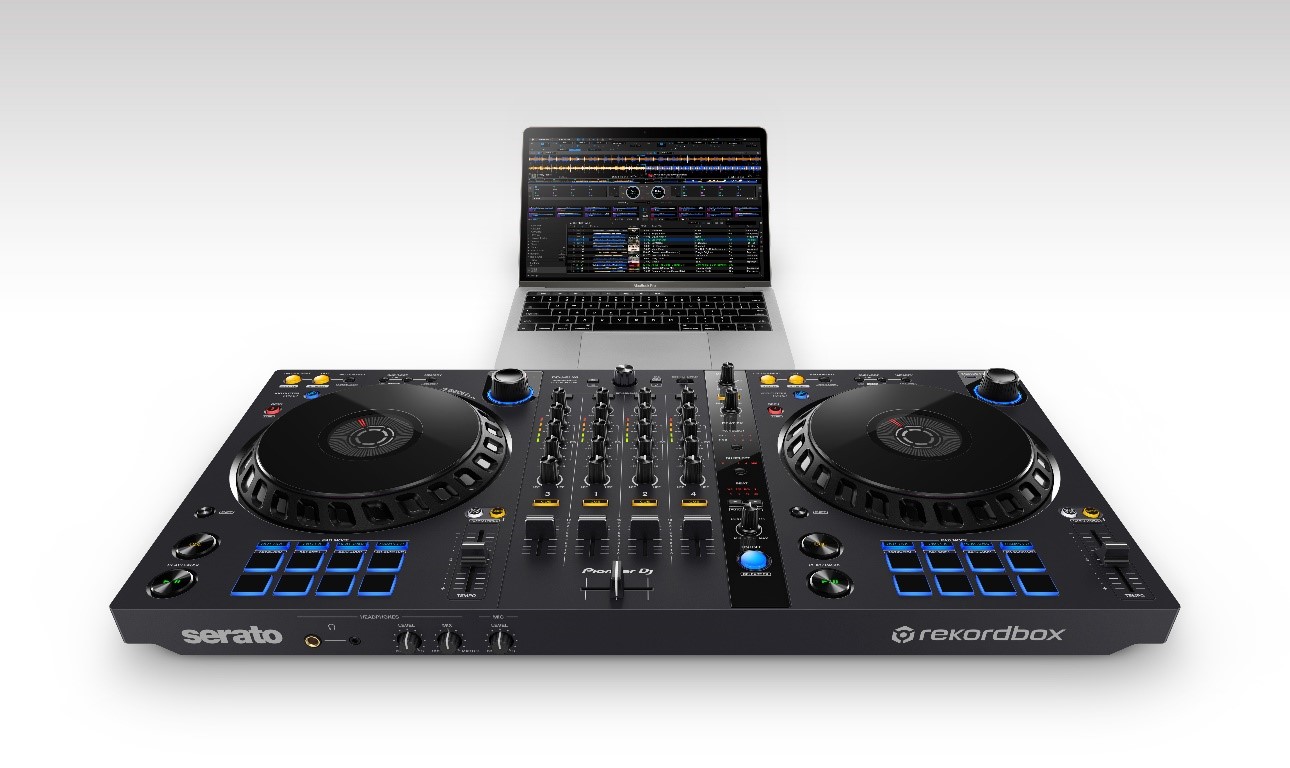 New aesthetic design: Be among the first to play on the new-style unit
The layout of the controls on the DDJ-FLX6 is similar to that on the club-standard CDJ + DJM setup, so you can perform intuitively. However, this DJ controller introduces a fresh look, with a dark gray matte finish and redesigned jog wheels that will make your setup stand out.
Other features
USB bus powered
Built-in sound card (audio interface)
Performance Pads
Class compliant (no drivers needed)
DDJ-FLX6 specifications
Software
rekordbox
Serato DJ Pro
Frequency Response
20 Hz – 20 kHz
S/N Ratio
104 dB
Total Harmonic Distortion
0.004%
Inputs
MIC x 1 (1/4-inch TS jack)
Outputs
MASTER x 1 (RCA x 1)
BOOTH x 1 (RCA x 1)
HEADPHONES x 2 (1/4-inch stereo jack x 1, 3.5-mm stereo mini jack x 1)
USB
USB (Type B) x 1
Power Supply
DC 5V
Power Consumption
500 mA
Maximum Dimensions
676.0 x 345.7 x 68.7 mm / 26.6" x 13.6" x 2.7 " (Width x Depth x Height)
Weight
3.8 kg / 8.4 lb
Accessories

Quick Start Guide
Precautions for use
Serato Pitch 'n Time DJ voucher
Serato FX Pack voucher
USB cable
Visit the official rekordbox website for the software's specifications.
Visit the official Serato DJ Pro website for the software's specifications.