16 października, 2018
New Convo and Event Map features in KUVO
New features centered on club events enhance connections between clubbers through photo and comment posting.
We've updated KUVO™, our community-based social network for dance music. KUVO offers club culture entertainment services for venues, DJs, and clubbers via the official website and iOS app. In this update we've added the Convo feature – a communication tool that helps clubbers share their experiences – and the Event Map, a feature that makes it easy to find club events you want to go to.
Social networks make it easy for event organisers to share details of their parties. But with so much content out there, it's difficult to get the right information to the people who might actually want to attend specific events. Thanks to this update, KUVO provides a place for people who are interested in club events to communicate with each other. DJs can connect with fans on a deeper level, venues and promoters can spread the word about their events to people who are most interested, and clubbers can contribute to the dance music community.
The event information page is where you can connect with other people who are attending a specific event. With the latest update you can now post photos*1 and write comments*2 on the event page and we've made it easier to find club events you're interested in by significantly improving KUVO's Club Map interface to create the new Event Map.
This new update is part of KUVO's constant evolution as it grows as a community platform linking not only clubs, DJs and clubbers, but event organisers too.
*1 Only still images can be uploaded. Videos are not supported.
*2 Users agree that uploaded photos and comments can be used in accordance with our Privacy Policy.
The new version of the KUVO app for iOS (ver 3.1) is available for free in the App Store from today.
If you already have the KUVO app for iOS, update it to the latest version to use the new features.
Key features of KUVO (KUVO app and kuvo.com)
Enhanced clubbing experiences with the Convo feature for photo and comment sharing
You can now post photos and comments to the Convo feature, which is like a chat on the event info page for each club event listed on KUVO. This enables DJs to review requests for tracks and enquiries about future events, and it gives clubbers the chance to share their experiences on the dance floor with others.
Easy club event hunting with the Event Map feature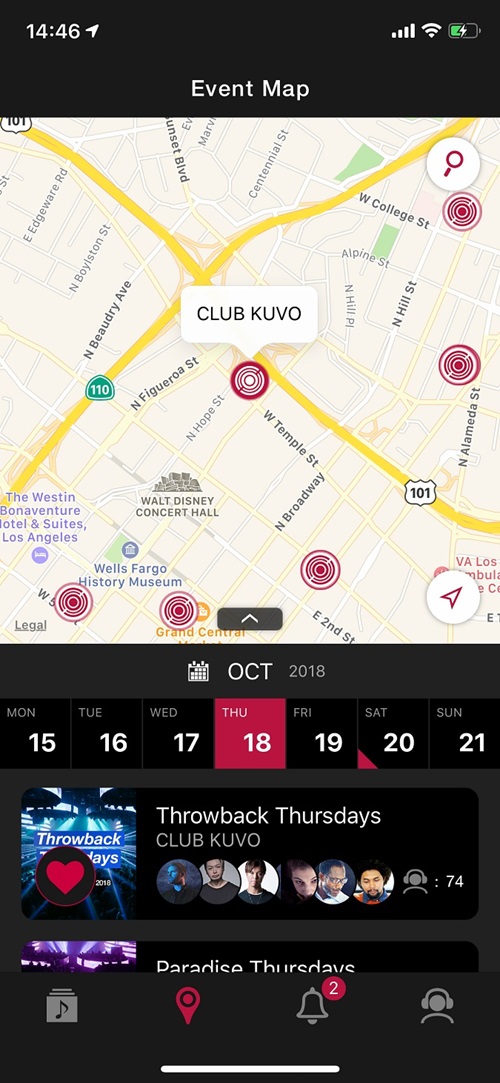 To help you quickly and easily find events you want to go to, the Calendar function has been merged with the Event Map (formerly known as Club Map). Now, you can see at a glance which genres of club events are being held in your area on a date you choose.
Event Map makes it simpler for you to plan your night or decide which events you want to go to at the weekend or, for example, at the end of the month. Easily find the parties that not only suit your schedule, but also feature performances by DJs you follow on KUVO.
KUVO App iOS Specifications
| | |
| --- | --- |
| Compatible OS | iOS 10 or later |
| Compatible Devices | iPhone |