AlphaTheta Corporation announces the release of the PLX-CRSS12 professional digital-analog hybrid turntable from its Pioneer DJ brand. This game-changing deck is the world's first to offer DVS control of digital music via DJ software as well as analog playback of vinyl records, helping you take your performances to the next level.
Never worry about needle skipping again when you use the PLX-CRSS12 in DVS mode with Serato DJ Pro or rekordbox. The tone-arm-free playback means you can scratch a real analog record as vigorously as you like without fear of missing a beat. And when you want to play a record the traditional way, you can simply switch the deck to Analog mode and use the tone arm as normal.
However you like the decks to feel, the PLX-CRSS12 adapts to suit your style. By adjusting the rotation dial on the included MAGVEL CLAMP, you can change how "heavy" or "light" the record feels. You can also adjust the turntable's torque level in the utility settings and there are 3 stopping speeds to choose from.
At first glance, you'll see how the PLX-CRSS12 has been designed for fluid scratching and intuitive performances. And when you look closer, you'll notice new features that enable a greater level of control and creativity. The battle-style layout leaves plenty of room for scratching and there are 4 MIDI-mappable Performance Pads too. You can also keep an eye on crucial information via the OLED display.
As well as the exciting features you can see, the PLX-CRSS12 includes a host of new additions which are hidden. Various components have been upgraded from the highly respected PLX-1000 professional turntable to create the best-ever analog sound from a Pioneer DJ deck.
Tone-arm-free DVS control eliminates skipping in digital playback
No matter how hard you scratch, you'll never experience needle skipping when you use the PLX-CRSS12 in Digital Vinyl mode, thanks to the tone-arm-free system. The new MAGVEL CLAMP holds a record firmly in place when you touch it, enabling it to directly control the digital music file, giving you the true feeling of vinyl with no need to use the tone arm. When playing analog records, the experience will be just like using the popular PLX-1000 deck.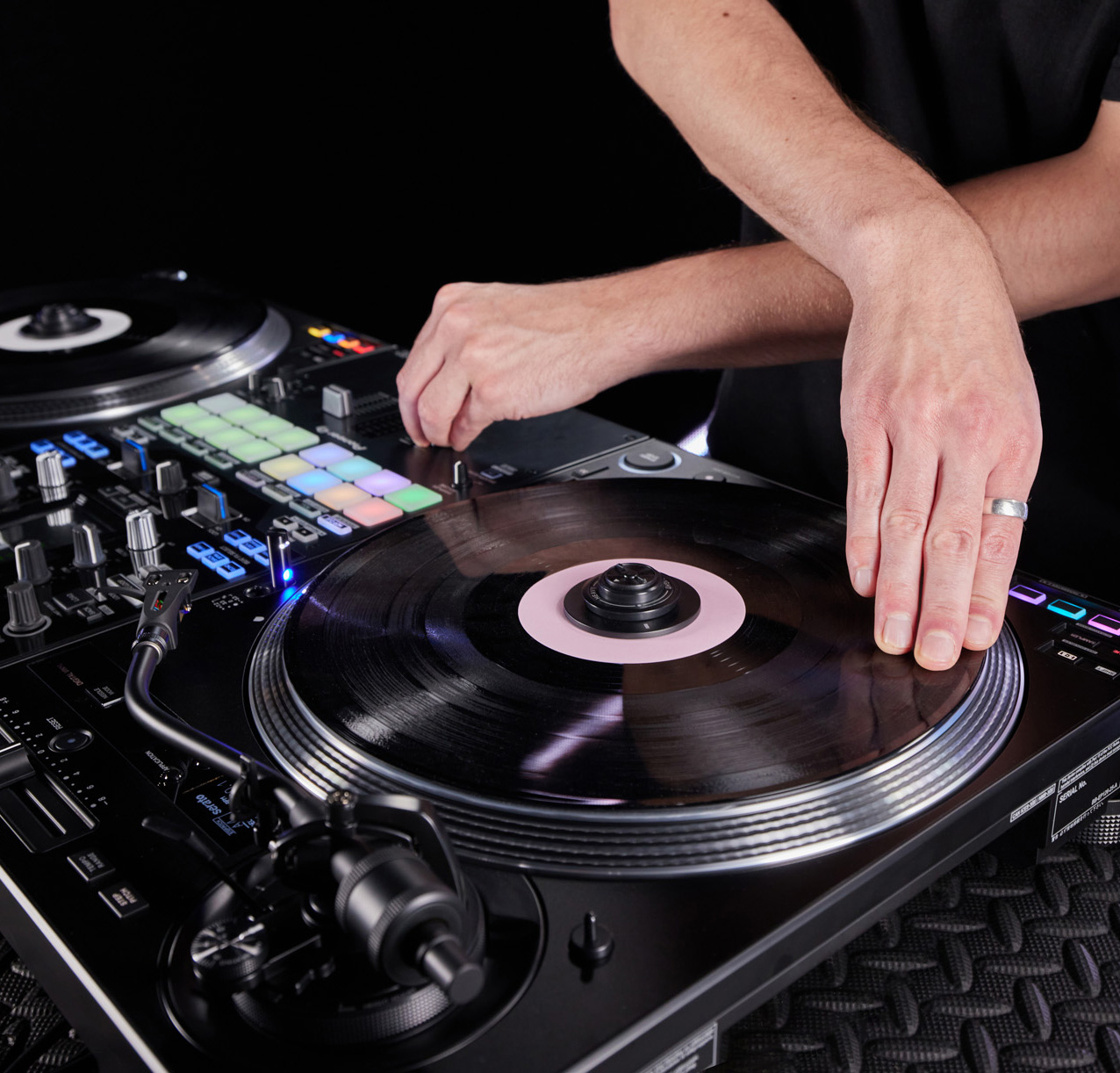 Feeling adjustment to suit your style
Find your perfect "weight" setting by turning the dial on top of the MAGVEL CLAMP. The amount of torque will be increased or decreased to make the record feel lighter or heavier without changing or adjusting slip mats or slip sheets. You can also adjust the turntable's torque level in the utility settings, and there are 3 deck stopping speeds to choose from via a switch on the front of the unit.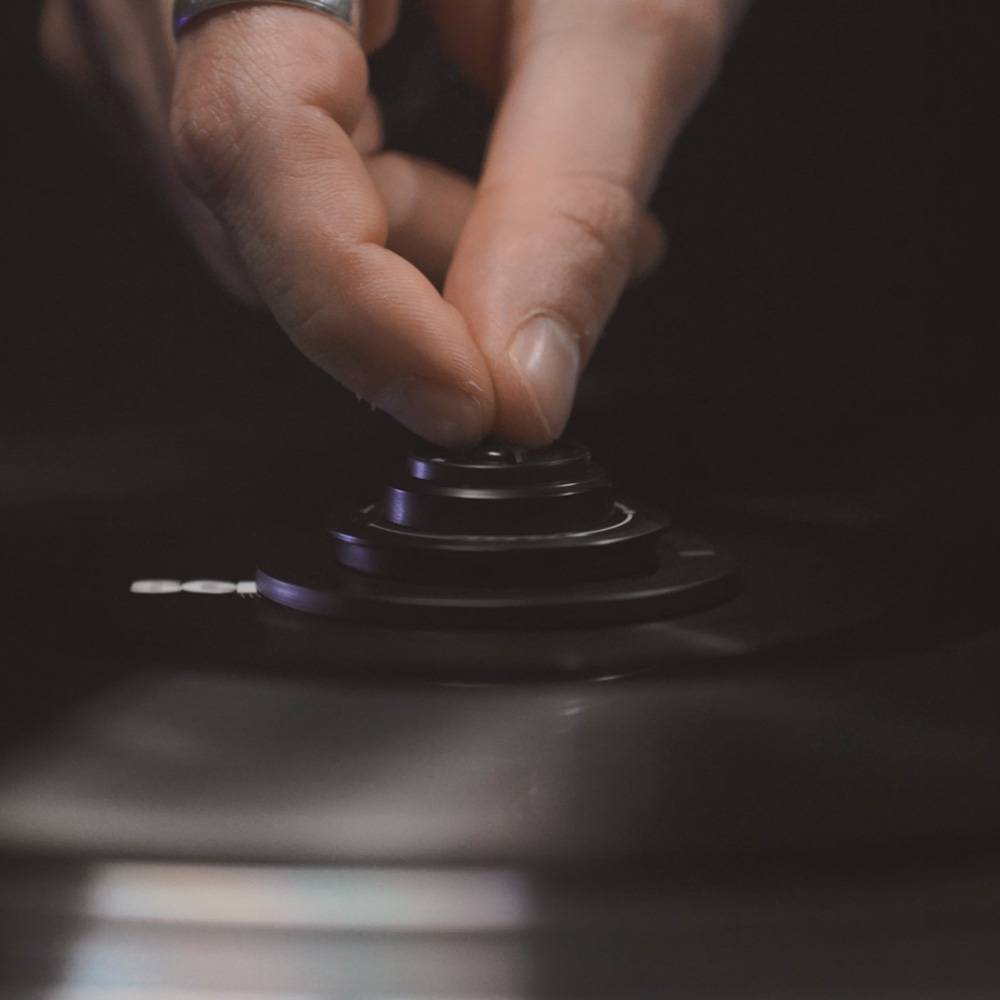 Performance Pads and OLED display for accurate and rapid control
The PLX-CRSS12 inherits classic turntable layout elements, but a new addition is the 4 built-in MIDI-mappable Performance Pads which put your favorite features at your fingertips. They're right where you need them – just below the platter – so you can fire off Hot Cues and samples quicker than ever, which comes in handy even more if you're performing on a mixer that has no pads. There's native support for various pad modes (see below), and a dedicated button enables you to switch control from pads 1-4 to 5-8. The pads are MIDI mappable too, so you can assign them to other features.
Native pad mode support
Serato DJ Pro: Hot Cue, Sampler, Stems, Scratch Bank, Roll, Saved Loop
rekordbox: Hot Cue, Sampler, Track Separation, Sample Scratch, Pad FX1, Beat Jump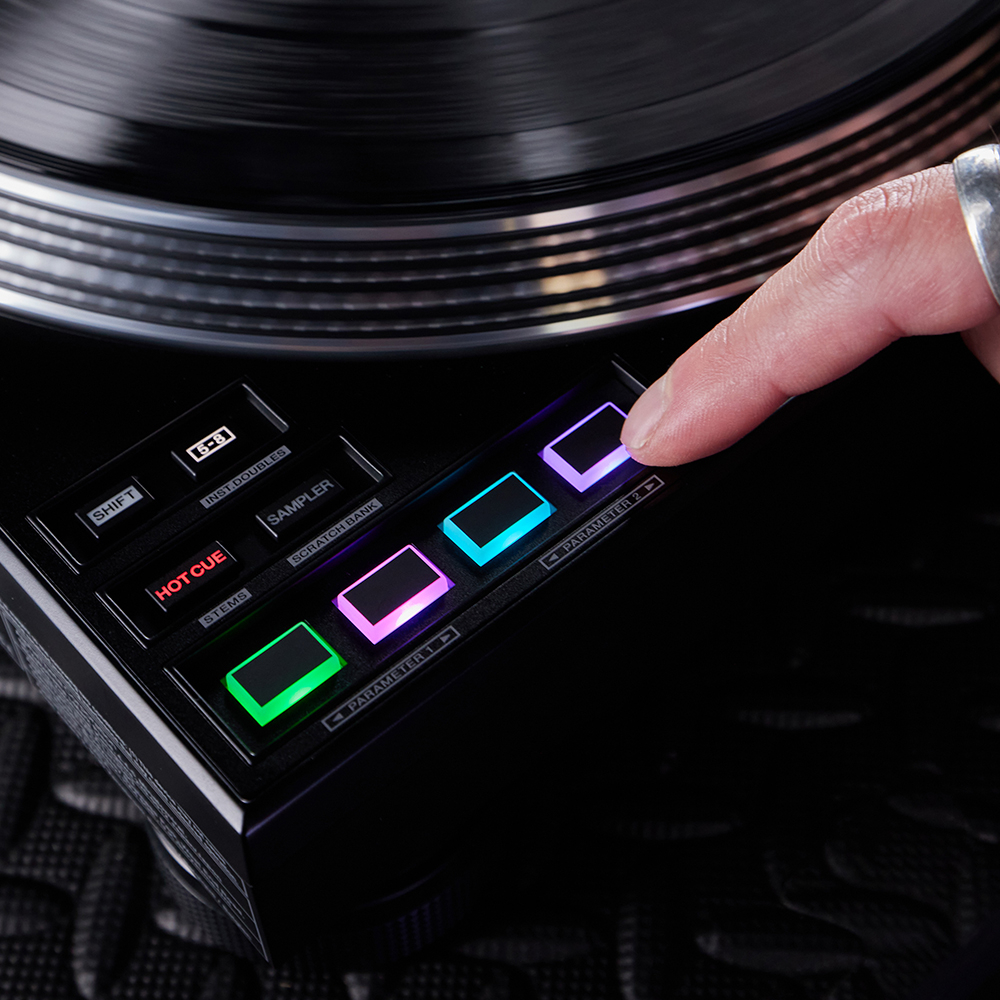 The built-in OLED display also helps you focus on the deck. You can keep an eye on the tempo range and key when Step Pitching with Analog or Digital Vinyl mode, and, when you're using Digital Vinyl mode, you can reference BPM, key, deck number information, and the name of the software you're running. The display also gives you quick access to the utility settings – all of which reduces the need to break concentration and look at your laptop or mixer during a performance.
Evolved, high-quality sound
Let your audience enjoy your music the way it was intended to be heard. The PLX-CRSS12 has been carefully built to improve on the sound quality of the PLX-1000 professional DJ turntable, which is highly acclaimed for its accurate sound reproduction. A switching power supply is used to eliminate transformer power supply vibration and flux leakage, and unwanted noise is suppressed, resulting in high-resolution sound quality. As with the PLX-1000, the upper part of the chassis is made of high-mass die-cast zinc and the lower part is made of 8 mm thick resin to optimize the chassis structure and vibration-damping materials. The RCA terminals are also made of machined gold-plated parts like those on the PLX-1000, and the phono signal is directly transmitted through a stable connection with the plug to reproduce the sound of analog records with high-quality audio.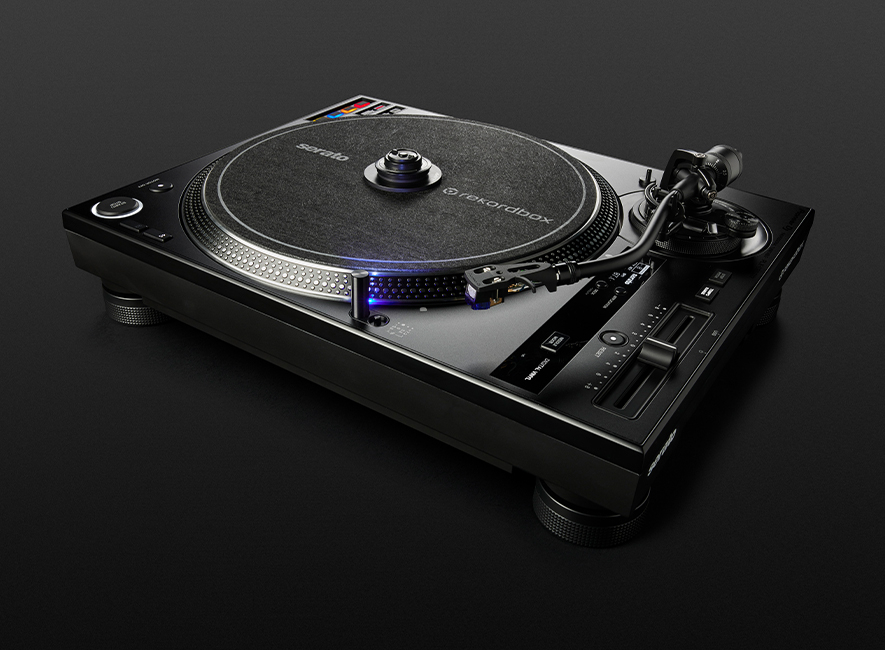 Other features
Replaceable MAGVEL CLAMP
Additional clamps are available to buy if you want to take your own set on the road, or if you need to replace a clamp that's been lost. You can store the MAGVEL CLAMP neatly in a dedicated area on top of the deck.
Robust and elegant design in matte black color
The PLX-CRSS12 has a matte black color scheme, with special coatings applied to the tone arm and other metal parts, plus carefully crafted details that give it a robust and elegant appearance.
Serato DJ Pro and rekordbox compatibility
The PLX-CRSS12 is compatible with Serato DJ Pro and rekordbox. By connecting this unit to a PC/Mac with DJ software installed, and to a mixer that supports the DVS function of the respective DJ software, you can start playing in Digital Vinyl mode and use the Performance Pads.
PLX-CRSS12 specifications
Software
rekordbox
Serato DJ Pro
Power requirements
AC 110 V – 240 V, 50 Hz / 60 Hz
Power consumption
8 W
Power consumption (standby)
0.5 W
Tolerable operating temperature
5 °C – +35 °C (+41 °F – +95 °F)
Tolerable operating humidity
5% – 85% (no condensation)
Maximum dimensions
(Width x Depth x Height)
453 × 353 × 159 mm
17.8" x 13.9" x 6.3"
Weight
12.2 kg / 26.9 lb
PHONO output terminal
RCA pin jacks: 1 set
USB terminal
USB Type-C: 1 set
Accessories
Platter
Screws for platter
Screwdriver
MAGVEL CLAMP
Slip mat
Slip sheet
Dust cover
Balance weight
Sub weight
Headshell
Shell weight
Power cord
Audio cable (with ground wire)
USB cable
Quick Start Guide
Warranty (for some regions)*
Precautions for Use


*Only products in Europe. Products in North America and Japan include warranty information in the Precautions for Use.
Turntable
Drive method
Servo type direct drive
Motor
3-phase brushless DC motor
Braking System
Electronic brake
Rotation Speed
33⅓ rpm, 45 rpm
Rotation Adjustment Range
±8%, ±16%, ±50%
Wow and Flutter
0.15 % or less WRMS (JIS WTD)
S/N ratio
65 dB (DIN-B)
Turntable
Aluminum die-casting diameter: 332 mm
Starting Torque
High: 0.45 N·m (4.5 kgf·cm) or more
Mid: 0.32 N·m (3.2 kgf·cm)
Low: 0.2 N·m (2.0 kgf·cm)
Start Time
0.3 seconds (at 33⅓ rpm)
Brake time
Max: 3.5 seconds
Mid: 1.0 seconds
Min: 0.5 seconds or less
Tone Arm
Arm Type
Universal type S-shape tone arm, gimbal-supported type bearing structure, static balance type
Overhang
15 mm
Effective Length
230 mm
Tracking Error
Within 3°
Arm height adjustment range
6 mm
Stylus pressure variable range
0 g – 4.0 g (1 scale 0.1 g)
Proper Cartridge Weight
2.5 g – 12 g


*Cartridge weight includes the mounting screws and nuts.

When shell weight is used
2.5 g – 5.5 g
When only balance weight is used
5 g – 9 g
When sub weight is used
8.5 g – 12 g
*The specifications and design of this product are subject to change without notice.
Visit the official rekordbox website for the software's specifications.
Visit the official Serato DJ Pro website for the software's specifications.