AlphaTheta Corporation has today announced the release of the DDJ-REV5 from its Pioneer DJ brand. This 2-channel, Serato DJ Pro and rekordbox compatible unit offers an authentic scratch experience and a variety of innovative features to enable more creative open-format DJ performances.
The DDJ-REV5 is equipped with large jog wheels for intricate and precise scratching when used with the robust and slick MAGVEL FADER. Also the long tempo sliders on the DDJ-REV5 run horizontally above the deck sections while the Performance Pads and Lever FX are placed in the mixer section emulating the setups loved by open-format DJs around the world.
It also comes with unique Stems control buttons for live mashups and remixes so you can individually play or mute different parts of any track, for example the drums or vocals.
To help you get more creative, the DDJ-REV5 features the first-ever Auto BPM Transition for seamless track mixing over a shift in BPM. This brand-new feature smoothly adjusts the tempo of a track over a specified number of beats so you're totally free when choosing songs and never bound by BPM ranges.
And the new Piano Play offers an immersive musical experience where you can trigger a cue point in different semitones, with the changes in pitch arranged on the 16 Performance Pads to recreate the layout of a piano's keyboard.
The DDJ-REV5 is compatible with Serato DJ Pro and rekordbox. To start DJing, simply connect the controller to a PC/Mac running your chosen application.
Large jog wheels and MAGVEL FADER for dynamic scratching
The large jog wheels are responsive, reliable, and easy to operate – with a feel just like those on classic CDJ units – and they each include a display with playhead position so you'll always know where you are in the track. You can also customize the Jog Feel to find your perfect jog wheel "weight". The MAGVEL FADER is slick, robust, and ready to translate every tiny movement you make so you can scratch with precision.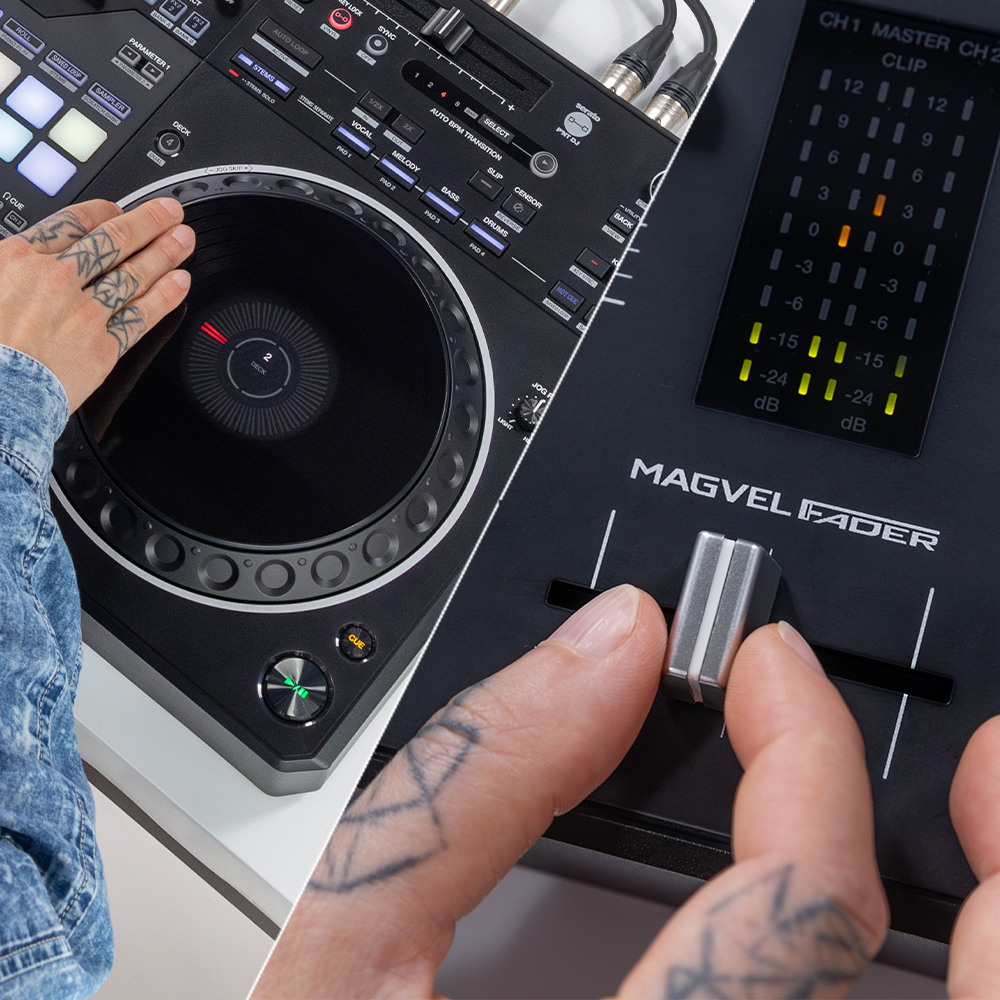 Scratch-style layout for open-format freedom
The long tempo sliders on the DDJ-REV5 run horizontally above the deck sections while the Performance Pads and Lever FX are placed in the mixer section for dynamic performances, emulating the PLX Series deck + DJM-S Series mixer setups loved by open-format DJs around the world. Thanks to the proximity of the pads, levers, and faders, you can fuse scratching with pad play and effects.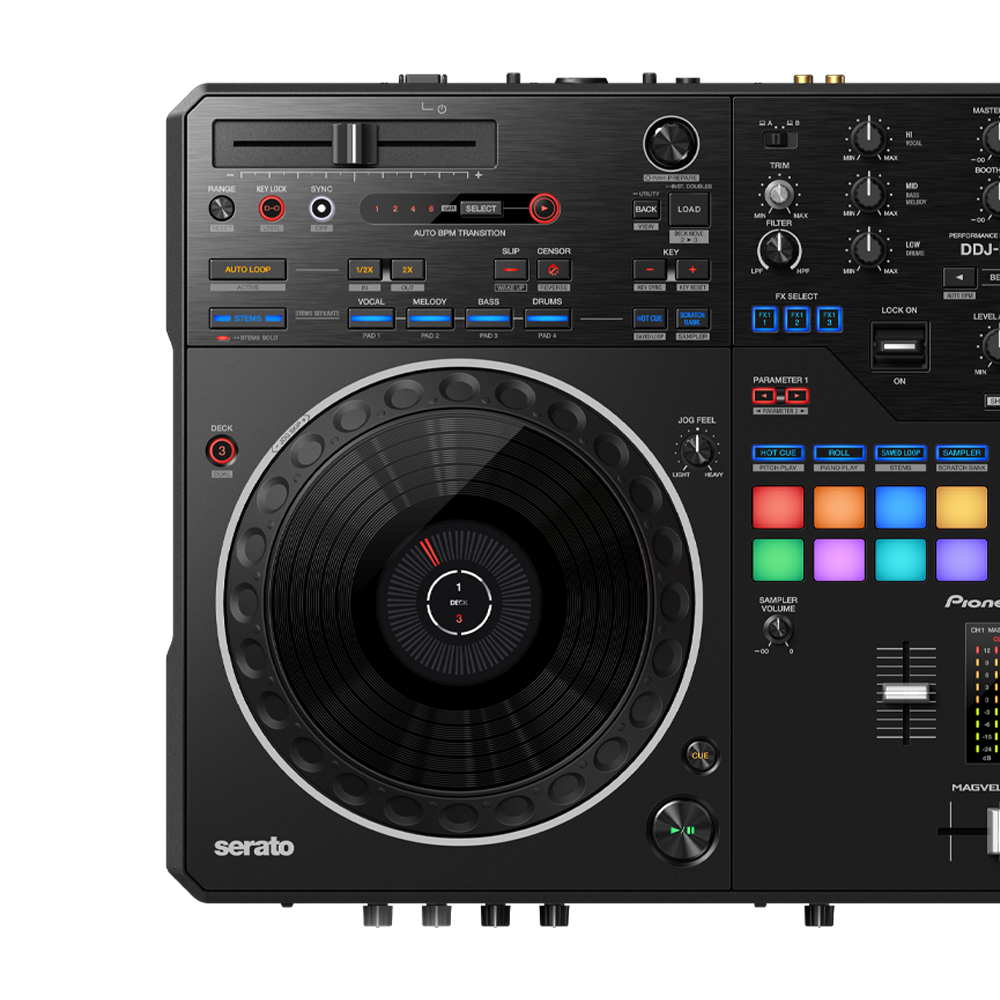 Dedicated buttons for easy Stems control
Easily make live mashups and remixes using the Stems buttons on the DDJ-REV5. Your tracks will be split into Stems within the software – vocals, melody, bass, and drums in Serato DJ Pro, or vocal, drums, and inst (other instruments including bass and synths) in rekordbox – which you can play separately.
Stems Mute/Solo
Solo or mute the different Stems to create your own mashups on the fly.
Stems Separate
Isolate different Stems of a track on separate decks to make live remixes.
Stems Level
Use the EQ knobs to adjust the volume for separate Stems.
You can use the different Stems in combination with Deck Move, so it's easy to make and control multiple live mashups and remixes at once.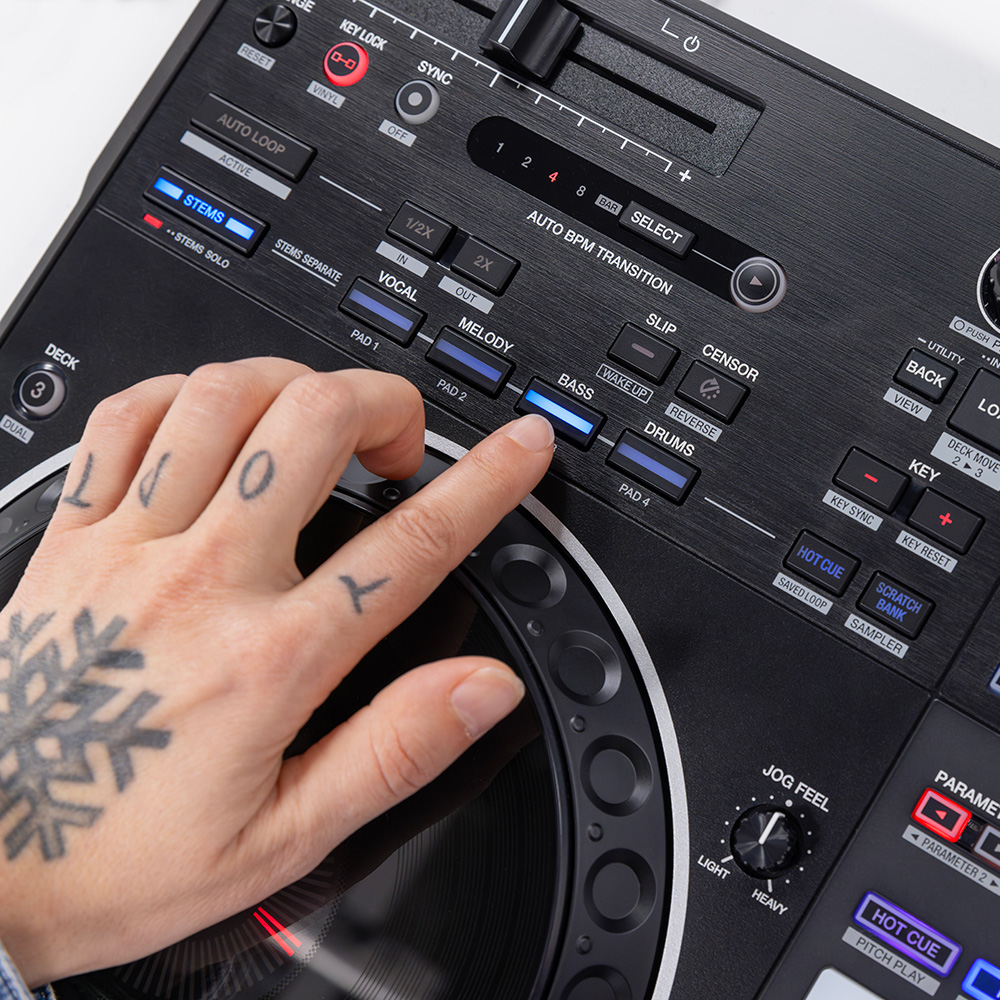 New Auto BPM Transition for smooth mixing
Mixing between musical genres with vastly different tempos is easy with the new Auto BPM Transition. Choose a number of bars for the transition and, when you press the button, the playing track will gradually change tempo to match the one loaded to the other deck so you can seamlessly mix or drop in the new track. You can also set Stems, Auto Loop, and Key Lock control to be applied during the transition.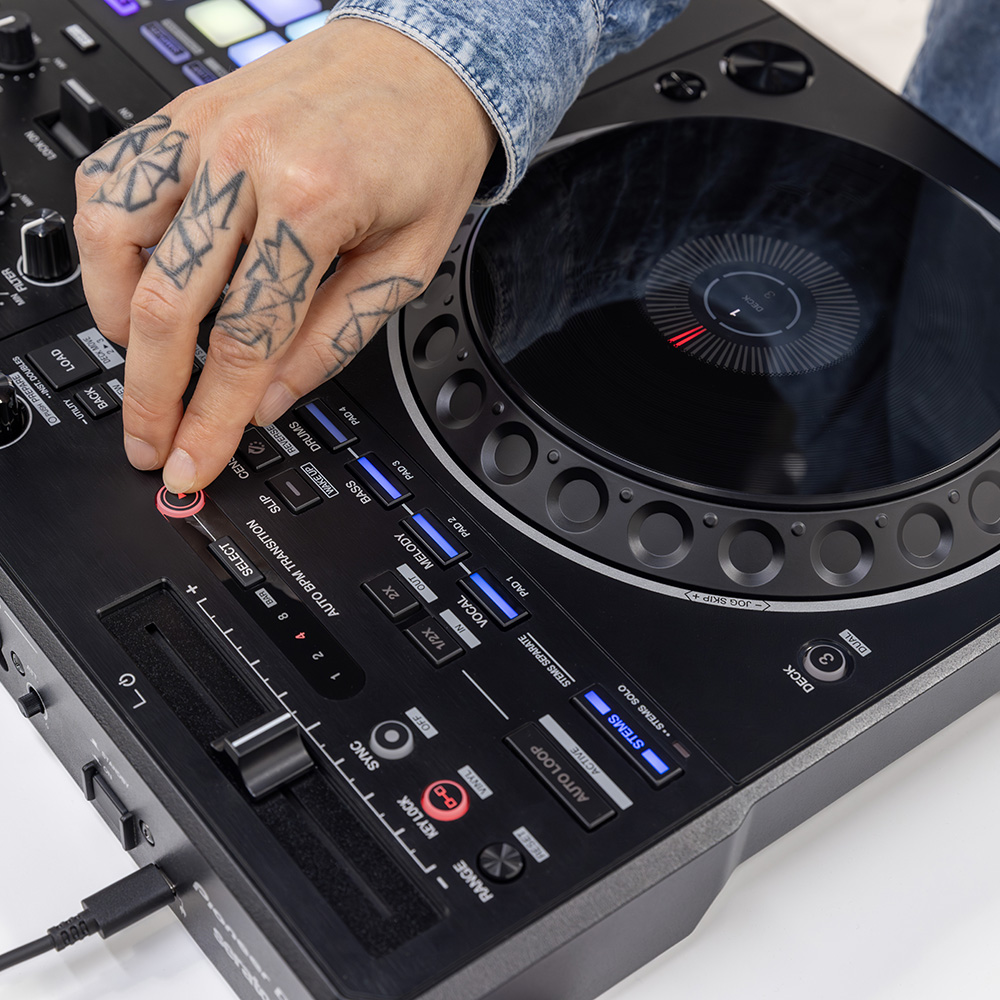 New Piano Play mode for intuitive musical performances
Just like Pitch Play, you can use the 16 Performance Pads to trigger a cue point in different semitones. But, with the new Piano Play mode, pitch changes are arranged so the pads form a piano keyboard, with the "white" keys on the bottom row and the "black" ones at the top. Choose from 3 scales and, even if you have no knowledge of musical theory or scales, you'll find it easy to play a tune.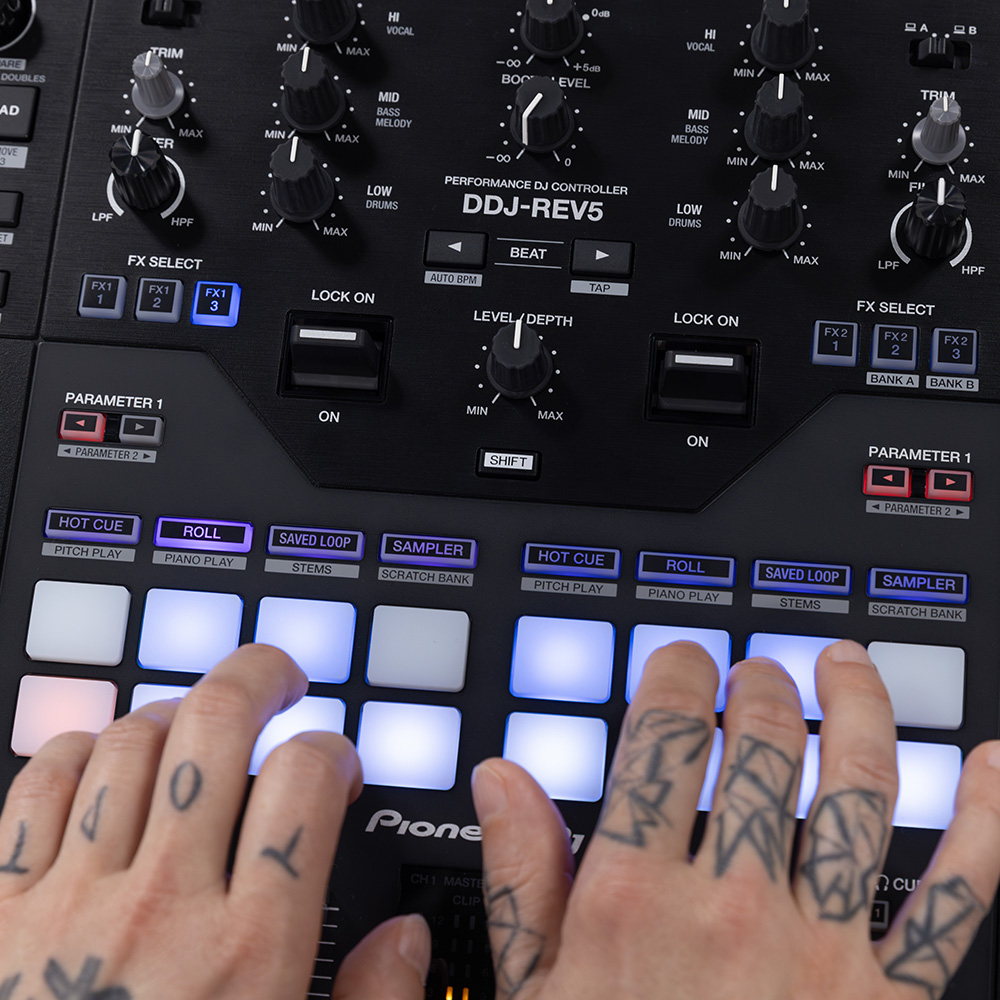 Multiple inputs and outputs plus 2 USB Type-C ports for smooth DJ transitions
You can use the DDJ-REV5 as the center of a larger setup thanks to its wide variety of inputs and outputs, including an XLR master out that's perfect for use in professional environments. There are 2 USB Type-C ports for PC/Mac too, making it easy to swap between DJs with a simple flick of a switch on the controller.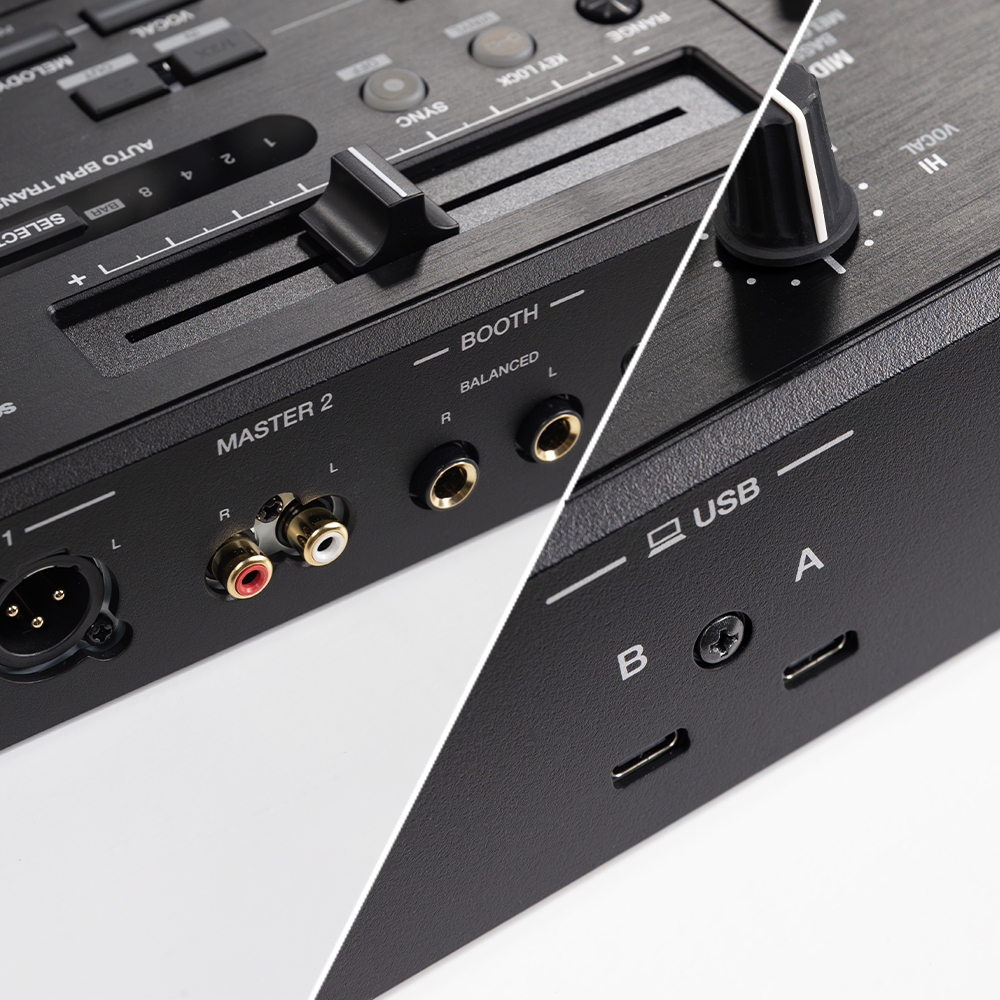 Serato DJ Pro and rekordbox plug-and-play compatibility
Choose your favorite software and start DJing right away. You can simply plug the DDJ-REV5 into a PC/Mac running the latest version of Serato DJ Pro or rekordbox to use either application for free – you don't need a license key or subscription. A voucher for the Serato Pitch 'n Time DJ expansion pack is also included.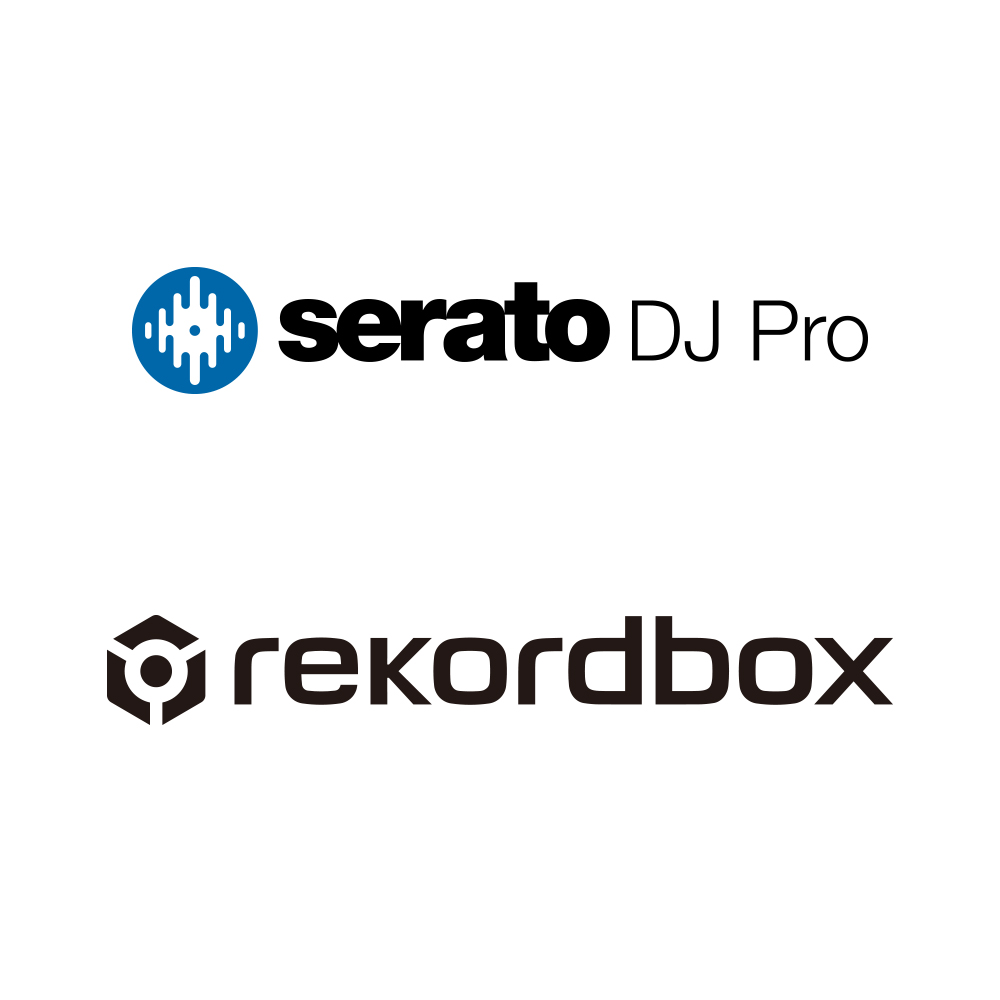 Analog-style design traits blended with advanced digital elements
The texture of the top panel on each jog wheel feels like a vinyl record to give an authentic feel when you're scratching, and the fader section is protected by a tough metal panel. The dedicated buttons for controlling Stems are line-shaped to represent how a track is made of 4 elements, and even the shape of the DDJ-REV5 is new, nodding to the fresh possibilities the controller offers.
Other features
DDJ-REV5 specifications
Software
Serato DJ Pro
rekordbox
Frequency Response
20 Hz - 20 kHz
S/N Ratio
110 dB (USB)
95 dB (LINE)
89 dB (PORTABLE)
81 dB (MIC1 & MIC2)
Total Harmonic Distortion
0.003 % dB (USB)
Inputs
AUX x 1 (RCA x 1)
MIC x 2 (XLR & 1/4″TRS jack x 1, 1/4″ TRS jack x 1)
Outputs
MASTER x 2 (XLR x 1, RCA x 1)
BOOTH x 1 (1/4″TRS jack x 1)
PHONES x 2 (1/4″stereo jack x 1, 3.5 mm stereo mini jack x 1)
USB
USB Type-C x 3 (PC/Mac connection x 2, power supply x 1)
Power Supply
AC adapter (DC 5 V, 3.0 A / DC 9 V, 3.0 A / DC 12 V, 3.0 A / DC 15 V, 3.0 A / DC 20 V, 2.25 A)
Power consumption
3 A
Maximum Dimensions
736 × 377.2 × 73.4 mm / 29.0″x 14.9″x 2.9″(Width x Depth x Height)
Weight
6.2 kg / 13.7 lbs.
Accessories

Power cord
AC adapter
USB cable x 1 (C to C)
Serato DJ Pro Pitch'n Time DJ voucher
Quick Start Guide
Precautions for use
Warranty (selected regions only)
Visit the official Serato DJ website for the specifications of Serato DJ Pro
Visit the official rekordbox website for the software's specifications.