What's in your music production set-up?
"We currently use Logic as our main DAW and run everything through that. We use the Moog Sub 37 for most of the basses in our tracks alongside Arturia synths for leads and pads etc. We use the Prophet-6 in nearly every production too. We were using Maschine in most of our tracks, but after getting hold of the TORAIZ SP-16 from Pioneer DJ, we've been using that for programming our drums."
"You find you get far more creative when you experiment with hardware."
Tell us a bit about how you use the TORAIZ SP-16…
"We grew up using the old drum machines like the [Roland TR-] 707 and 909, so it was cool to go back to that way of working – actually programming our drums into patterns rather than just building them in Logic. You find you get far more creative when you experiment with hardware. We run the TORAIZ SP-16 and use effects on some of the sounds live. Recording them on the fly, you get a miles-better outcome compared to when you just draw a line in Logic or Ableton. The new effects on the latest update for the SP-16 have really helped with this and the on-board filters are quality."
What makes the TORAIZ SP-16 different from other products?
"It's great to have a proper old-school drum machine with a built-in sampler and a big touchscreen all in one. It's like the best of the old and the new and because it's made by Pioneer DJ, the build quality is top notch. Some of the drum machines that have been released lately are small and feel plasticky, like you could break them if you press a button too hard. We'll happily use the SP-16 in the studio as a production tool but then be confident to take it to gigs and use it live."
Which feature on the TORAIZ SP-16 do you like best and why?
"Probably the touchscreen. It's so easy to navigate and figure out how to do things. You can use it straight out of the box. Some of the old drum machines had lots of secret menus and you had to hold 2 or 3 buttons to access things, but the touchscreen eradicates all that. I think that because everyone has a smartphone now, people are used to just using a touchscreen. It makes total sense."
How has using the TORAIZ SP-16 changed your production process?
"It's definitely allowed us to be more experimental with our beats and percussion and the way in which we use effects on them. We've built up a really cool palette of sounds in the machine now, so we can start a new track and get something sounding really cool within a few minutes. We never have as much time as we'd like in the studio so that's essential."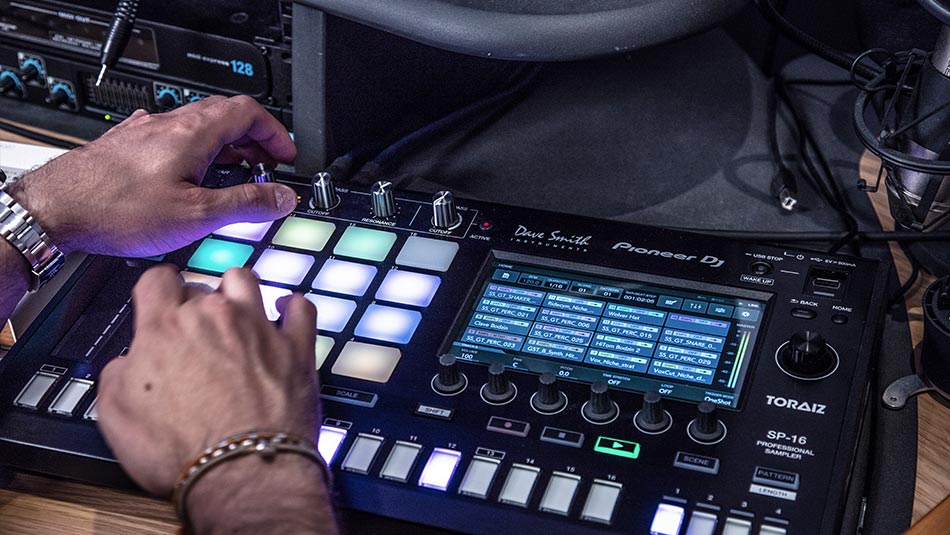 Would you recommend the TORAIZ SP-16 to anyone?
"We'd recommend it to producers and DJs alike. If you've always just used loops and never used a drum machine, then this is a perfect starting point. It's so simple to use but you can also get into advanced techniques on it and start sampling your own sounds too. Using it in the studio helps when you take it live too, because you feel like you know it inside and out."
What's your current DJ set-up?
"Our DJ set-up is 3 x CDJ-2000Nexus, a DJM-900NXS2, an RMX-1000 and the TORAIZ SP-16. "
How do you blend DJing and live playing in your performances?
"Before we had the SP-16, we just played as DJs off 4 decks a mixer and an RMX-1000. 2 of the decks were CDJs and we used 2 decks on Traktor. We used an iPad to control the effects on the Traktor decks and the RMX-1000 added effects over the whole set-up. So really with that set-up, it wasn't so much a live performance – it was a DJ set with a ton of effects.
Now, with the SP-16, we've completely removed the Traktor element. We've broken down the majority of our tracks into the SP-16 so we can play them live and rearrange/remix them on the fly, perfectly in sync with what we're playing on the CDJs. It's completely changed how we play – we can now switch between playing other people's tracks to playing our tracks live with little fuss."
What makes a good DJ?
"3 things make a good DJ...
Presence. For us, a DJ has to own the room as soon as they step behind the decks. If you don't have confidence in what you're doing, the crowd won't go with you.
Track selection. Being able to read a room and assess the vibe, knowing when to build the pace, when to back off and when to blow minds. To do that you've got know your music inside out.
Technical ability. We think the best DJs are the ones who make you wonder, 'How are they doing that?' It's something we strive for in every set we play."
What are the defining characteristics of your approach to mixing/DJing?
"We like to use all the new technology available to us to try to push things as far as we can technically when playing some of our own tracks live, but still stick to the roots of real DJing; beat matching, scratching and throwing in acappellas. Also, we love playing long sets whenever possible. We like to be in for the long-haul so we can take people where we want to."
You've said in the past that you identify primarily as DJs. What is it about the dancefloor vs. the studio that you like?
"With the dance floor, the reaction is instant. If it's not working, you find out very quickly. But with the studio we've only got ourselves to decide if what we're doing is good or not."
You integrate a lot of influences from different genres, styles and places. Can you talk about your main influences at the moment?
"We like to listen to a lot of eastern music, weird African tribal music and Indian vocals which can be heard in our music a lot. Also, we listen to quite a bit of 80s synth pop, and 90s hip-hop. We find influence in all sorts of music. "
One thing that stands out in your DJ sets is an attention to basslines. What makes a good bassline in your opinion?
"Basslines hold everything together and we build our tracks around them, so we like a heavy sub with the kick that has a straight groove to give it that techno drive. We also like a light bass over the top that we can make a melody out of. A combination of both of those elements makes a good bassline for us."
Where do you find your samples?
"Everywhere from sample packs and old sample CDs to ripping stuff off old records and even YouTube."